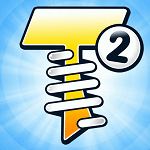 Text Twist games by GameHouse.
Addicting text twisty word play for mobile and computer.
Including mobile game apps for Fire and Android.
And games for PC and Mac, including PC download and bonus games on Amazon.
For more top word puzzle games for Android, Fire, PC and Mac, see my list of posts below.
GameHouse Text Twist Games List
From: GameHouse / RealNetworks | Genres: Word, Puzzle, Arcade, Text Twist Wordplay.
Text Twist 2
Android Release: December 2011.
Description: Twist and shuffle letters and make as many words as possible against the clock. Play 5 fantastic game modes to challenge your word knowledge. Play the original Timed and Untimed modes or take it to the next level with Letter Mania, Lightning, and Daily Word. TextTwist 2 features a huge library of words, trophies and cool fun facts. The learning excitement is endless! Win trophies and unlock cool fun facts to share! [Source: Amazon]
Play Text Twist 2
Available for PC and Mac from: US Amazon or UK Amazon. With Text Twist 2 plus BONUS game – Super Text Twist!
And for Amazon Android for: Fire Tablet (US) or Fire Tablet (UK).
Super TextTwist
First released: 2009.
Description: The diabolical minds at Game House, creators of Bounce Out and Collapse, bring you a more cerebral challenge: You've got two minutes and thirty seconds to make as many words as possible with either six or seven random letters. Figure out the combination with the most letters and move to the next level. A classic word scramble for a digital world. Take a break and excercise your brain all at once! [Source: Amazon]
Features: Unlimited Play, Play in Window or Full Screen Mode, High Score Tracking, Play With Six or Seven Letter Words (or Both), Twist' the Letters to See Things Differently!
Play Super TextTwist
Available to download from US Amazon: Super TextTwist Download for PC.
Also physical version on CD for PC and Mac from: US Amazon or UK Amazon. Included with Text Twist 2 as a BONUS game.
Text Twist Turbo
Amazon Release: January 2010.
Description: Twist words out of the letters provided to progress to longer words and bigger challenges, all at your own pace.
Two exciting game modes offer you endless hours of verbal workout! Basic Puzzle lets you create words of any length out of the list of letters provided. The longer the words you create, the faster you move on to the next challenge. Twist Puzzle gives you sets of letters, which you twist into complete words.
Once you have enough solved words, new letter sets open up for you to wordify. This fun and relaxing game is perfect for crossword fans, wordsmiths, puzzle gamers and anyone looking for a twist! [Source: Amazon]
Play Text Twist Turbo
Available on Amazon for: Fire Tablet (US) or Fire Tablet (UK).
More Top Word Games for Computer and Mobile
For more word games like Text Twist, check out:
Play Classic Scrabble Against the Computer for PC and Mac.
PopCap Bookworm Games Online for PC and Mac.
Highrise Heroes – Best Mobile Game Alternative like Bookworm Adventures.
Top Word Games for Android – WordBrain Review for Fire, iOS, Android.
Epistory Typing Chronicles from Fishing Cactus for PC and Mac.
Best Word Puzzle Game for Android – Wordscapes.
For more games lists, check out my Game Series Lists – A to Z Index.
Don't forget you can Subscribe or Follow to keep up to date with my latest posts.