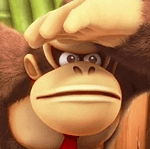 New out Donkey Kong Country 5: Tropical Freeze for Nintendo Switch.
A port of the 5th installment in the Donkey Kong Country games series!
This version for Switch includes all-new features and a new playable character.
See below, for a list of the Donkey Kong Country games so far. Listed in order of release, including ports for other Nintendo devices.
Donkey Kong Country 5 for Switch
From: Retro Studios.
Genres: Platform, 2D, Adventure, Action, Strategy, Family, Funny!
Nintendo Switch release date: May 4, 2018.
Donkey Kong Country 5: Tropical Freeze
Description: Barrel-blast into a critically acclaimed Donkey Kong adventure as this beloved franchise makes its Nintendo Switch™ debut with a banana-bunch of new features. Traverse islands packed with platforming perfection and nonstop action as the classic Kongs in the original game, or mix things up by playing the story as Funky Kong in new Funky Mode! [Source: Amazon]
Nintendo Switch Game Play
Explore levels that twist, turn, and transform in unexpected ways. While the dynamic rotating camera helps you fully enjoy this game's diverse, vibrant islands.
Master a range of special moves, including unique abilities. From Diddy Kong's jet pack and Dixie Kong's spinning ponytail. To Cranky Kong's cane bounce.
Overcome challenges, battle frosty foes and bosses, and reclaim the Kongs' stolen home.
Seek out a wealth of collectibles that'll enable you to unlock additional content. And stock up on useful items.
Enjoy all the fun and challenge of the original game. Plus an optional new mode that makes the game more accessible to younger and less-experienced players. As well as those looking for a more relaxed gaming experience.
Features
For the first time ever in the Donkey Kong Country™ series, play as Funky Kong!
Funky Kong has extra hearts and helpful abilities. Double jump, hover, infinite rolls, infinite underwater corkscrews, and spike resistance.
Share the adventure with a friend! During two-player co-op gameplay. Each player can use a single Joy-Con™ controller. No additional accessories are required.
Play DKC: Tropical Freeze on Switch
Donkey Kong Country Games Series
This Donkey Kong Country games series list includes all of the game titles, in order. With details of the first release and subsequent ports:
1. Donkey Kong Country (SNES 1994). Ports: (Game Boy Color 2000), (GBA 2003), (Wii 2007).
2. Diddy's Kong Quest (SNES 1995). Ports: (GBA 2004), (Wii 2007).
3. Dixie Kong's Double Trouble! (SNES 1996). Ports: (GBA 2005), (Wii 2007).
4. Donkey Kong Country Returns (Nintendo Wii 2010). Ports: (Nintendo 3DS 2013), (Wii U 2015).
5. Tropical Freeze (Wii U 2014). Ports: (Nintendo Switch 2018).
For details of the Nintendo Switch console, game and Labo bundle options available on Amazon. See my: Nintendo Switch Console and Bundle Review.
Top Nintendo Switch Games on Amazon
For some more cool Nintendo Switch game releases on Amazon. Including some top family games:
* Zoo Tycoon: Ultimate Animal Collection New for Xbox One.
* Battle Chasers: Nightwar RPG for Mac & Nintendo Switch.
* Crash Bandicoot NSane Trilogy for Switch, Xbox One, PC and PS4.
* South Park and The Fractured But Whole.
* Cat Quest – A Grand Adventure of Dragons, Magic and Cats!.
* Lost Sphear JRPG for Nintendo Switch.
* Hasbro's Monopoly for Nintendo Switch.
See also my latest Nintendo Switch Games news and reviews.
More Top Game Series
* Spyro the Dragon Games List in Order.
* God of War Games (Chronology and Release Order).
* Syberia Games for PC, Mac, PS4, Xbox, Switch.
* The Sims 4 Packs, Listed in Order and Sale.
* Nancy Drew Download Games from Amazon and Big Fish.
* Amaranth's Aveyond Kingdom Series List in Order.
* Virtual Villagers Real-Time Management Games.
* Broken Sword Mystery Adventure Series.
* Dream Chronicles Series for PC, Mac and Nintendo DS.
See also my A to Z Game Series Index.
Don't forget, you can Subscribe or Follow and get updates of my latest posts.