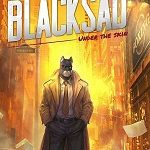 Blacksad: Under The Skin Limited Edition, a story-rich noir detective game.
New on Amazon for PS4, Xbox One and Nintendo Switch.
Explore the gritty underworld of Blacksad, with private detective John Blacksad. As he investigates the corrupt underworld of boxing.
This is the official video game adaptation of the Blacksad comic book series.
For more gritty detective RPGs, see my list of posts below.
Blacksad Official Video Game Adaptation
Developer: Pendulo Studios, YS Interactive | Publisher: Microids | Released: Nov 2019 | Genres: Adventure, Detective, Choices Matter, Comic Book, Mature, Noir, Story Rich, Cinematic.
Blacksad: Under The Skin Limited Edition
Plot: A dark corruption scandal in the heart of the New York City's underworld for charismatic detective John Blacksad. It's the early 50s: Joe Dunn, owner of a boxing club, is found dead… And rising star Robert Yale – due to take to the ring for the most important fight of his career – has mysteriously disappeared. Sonia Dunn, Joe's daughter, takes over the club and must deal with its financial woes. She hires private detective John Blacksad to investigate Yale's disappearance. [Source: Amazon]
Game Play
This sinister case will take our investigator to the darkest, most dismal depths of New York. With its anthropomorphic characters and its incredible 1950s feel. BLACKSAD: Under the Skin promises all the eerily dark adventure of a detective novel. Just like the eponymous comic book series. Investigate, searches for clues, fights, witness interviews. Let your feline instinct guide you as you infiltrate the corrupt world of boxing!
Meet Over 30 Unique Characters
With 30+ unique characters to interact with. Including fan favorites from the graphic novel. And new exciting personalities, each with their own story to follow along with.
Explore 1950's New York City
Take a trip to New York City and explore its bustling underground empowered by a jazzy soundtrack that immerses you into this fascinating neo-noir adventure.
Paw Your Way Through A Mysterious Story
Let your feline instinct guide you through a twisting narrative as you seek the truth behind a gruesome murder and a strange disappearance.
Features
Under the Skin Limited Edition includes: 4 Art Prints (16.7cm H x 10.3cm W). 3D Lenticular artwork. Limited Edition Sleeve.
Official and all-new story for BLACKSAD, set in the comic book series' unique world, perfectly recreated for gamers.
An investigative narrative game combining investigations, puzzles, quick time events (QTE) and multiple-choice dialog.
An immersive world with a jazz soundtrack to rival the very best of Hollywood's film noir.
Fans of adventure games will love its gameplay and narration. And fans of the comic book series will be thrilled to rediscover the characters and graphic style of this unique world.
Play Blacksad: Under The Skin Limited Edition
Limited Edition available for PS4, Xbox One and Nintendo Switch from: US Amazon or UK Amazon.
And available on Steam for PC and Mac.
More Top Story-Rich Detective Role-Playing Games
Duskwood Your Criminal Case Free Interactive Crime Thriller for Mobile.
True Fear Forsaken Souls Part 2 Release for Switch and PS4.
Tex Murphy Game Series #7: The Poisoned Pawn – Latest Release News.
Upcoming Syberia 4 from Microids – Latest Release News.
She Sees Red Interactive Detective Thriller for Computer, iOS, Android.
Her Story – Detective Game App Review for Fire Tablet.
The Sinking City by Frogwares.
Broken Sword 5 The Serpent's Curse (2018).
Truberbrook Atmospheric Sci-Fi Mystery Thriller.
And also check out: Agatha Christie: The ABC Murders Game from Microids – Review. For Mac, PC, Mobile, Xbox One and PS4.
See also my latest Detective Games series lists, new releases and reviews.
Don't forget you can Subscribe or Follow to keep up to date with my latest posts.