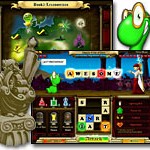 There are some great word games available for PC and Mac.
And these are my top 10 favorites!
This top 10 best word games list for download.
From word search games and crosswords.
To word scramble or unscramble games.
And other popular word games styles.
Most of these word games have a free demo. And are available to download online.

Top 10 Best Word PC & Mac Games
10 top word games on Big Fish and Amazon for PC and Mac.
1. Hidden Object Crosswords
Review: Solve riddles and find Hidden Objects in Hidden Object Crossword, a unique blend of two incredible styles of gameplay!
Challenge yourself to find the different answers in each tough level of this ridiculously fun game.
Take on the world's most popular word game and succeed getting extra hints from the helpful butterfly.
2. Wheel of Fortune 2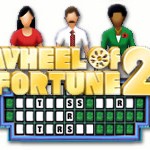 Review: Step into the spotlight and spin the Wheel to experience the enhanced sequel of America's #1 game show. Pick a consonant or buy a vowel in order to solve word puzzles in Wheel of Fortune 2.
Choose one of three enhanced game modes: Road Trip, Group Play, and Puzzle of the Day. Customize your player's look and earn trophies along with virtual cash.
Look out for the dreaded Bankrupt and Lose A Turn wedges as you spin-to-win in this glimmering new Wheel of Fortune edition. The #1 game show with 2,000 puzzles to solve and new game modes.
Available on US Amazon for: PC CD or Nintendo DS. And UK Amazon for: PC CD.
3. Bookworm Deluxe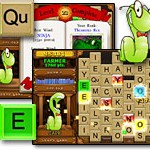 Review: We'll spell it out for you: F-U-N! Link letters and build words in this wild word puzzler.
Lex, the Bookworm, feeds on words that you create by linking letters together. Fill his tummy and earn big points in return.
This classic game is turn-based, so you can take your time planning your moves. Watch yourself: burning red tiles threaten to set your library aflame.
Bookworm 1/Bookworm Deluxe on Amazon
Bookworm Deluxe is the updated version of Bookworm 1. Available for computer. Including a 3-in-1 bundle with ALL 3 Bookworm Games (Bookworm 1, Adventures and Adventures Vol. 2).
Get it from: US Amazon for: PC Download or Mac Download, Bookworm Bundle.
And UK Amazon for: PC CD or Mac CD, Bookworm Games Bundle.
4. Word Search Deluxe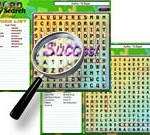 Review: This family-friendly game features thousands of word groups, numerous game types, a puzzle editor, and difficulty settings for all ages and skill levels.
A kids' option with animated and easy-to-read, large grids of letters helps aid the learning process.
Want to create your own puzzle? Use the puzzle editor, or download dozens of puzzles from players around the globe. Your search for the perfect word game ends here!
Full version includes: 3 gameplay modes, multiple board sizes, loads of extra features and built-in puzzle editor.
5. Flip Words
Review: To beat this addictive puzzler, you'll need to exercise your mental muscles! Start with the first letter of a familiar phrase, then fill in the missing letters.
Once you recognize the phrase, you can submit your guess – or better yet, try to reveal all the letters for an extra special bonus.
Because you can download new phrases and create your own, you'll never run out of word-flipping fun!
Available from US Amazon on PC CD.
6. Word Wizard Deluxe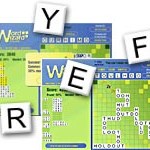 Review: With enough variety to keep you endlessly entertained, this lexicon lover's dream is the ultimate in word challenges. Using only seven letters, lay out 30-100 interconnected words on a board.
With more than 4,000 word families, you'll never get the same puzzle twice. Did you know that you can make 64 words from the 7 letters in "beavers"?
Chew on that for awhile! No matter your skill level, you'll enjoy the challenge!
Full versions include: endless entertainment, use only 7 letters at a time and more than 4,000 word families.
7. Big Kahuna Words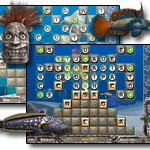 Review: This brilliant word game will have you diving between hammerhead sharks and other aquatic life while you use your words to break stone blocks in an explosive twist on puzzle gameplay.
Use the built-in level editor to expand your explorations of the underwater realms to an almost infinite number.
Two play modes, Action and Relaxed, both allow for you to discover the mighty Tiki Totem and earn rewards for your word-creation prowess.
Full version includes: 2 gameplay modes, 50 levels and built-in level editor.
8. Word Zen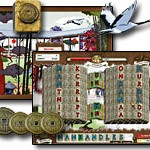 Review: Combine the addictiveness of a mahjong game with the clever, brain-bending challenge of a word puzzle and what do you get?
A brand new word-forming, tile-clearning sensation. Just like traditional mahjong, your goal is to clear tiles, but instead of matching symbols, you'll need to form words to win!
The longer the word you spell, the more points you will earn, and watch for special multiplier tiles for extra points!
As you progress on you journey through Word Zen, unlock items in your Zen Garden, where you can relax and enjoy soothing visuals and sounds.
9. SandScript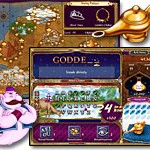 Review: Have a way with words? Savvy with spelling? Use these skills in SandScript to decipher mystery words, one letter at time and help our hapless genie restore his magical powers.
Score bonus points for making correct guesses consecutively and quickly.
Collect treasures and awards along the way as you journey from the Lonely Pyramids to the Ivory Palace and see how far your smarts will take you!
The full version download includes: 80 levels, 3 game modes, over 13,000 words and 7 magical power-ups!
Available on US Amazon: PC Download.
10. Bookworm Adventures
Review: Help Lex build words to battle monsters in a spelling sensation of epical proportions! Spell words from a collection of letter tiles as you travel through three storybooks in pursuit of your friend Cassandra. Vanquish villains, whomp foes and annihilate over 150 enemies. Increase your word power with fantastic gems, potions and magical treasures. Add to your adventure exciting mini-games and brilliant bonus modes, and you`ll see why Bookworm Adventures is the ultimate test of vocabulary valor! Full version download of Bookworm Adventures includes: spellbinding storybooks, magical mini-games and get to unlock the Tome of Knowledge!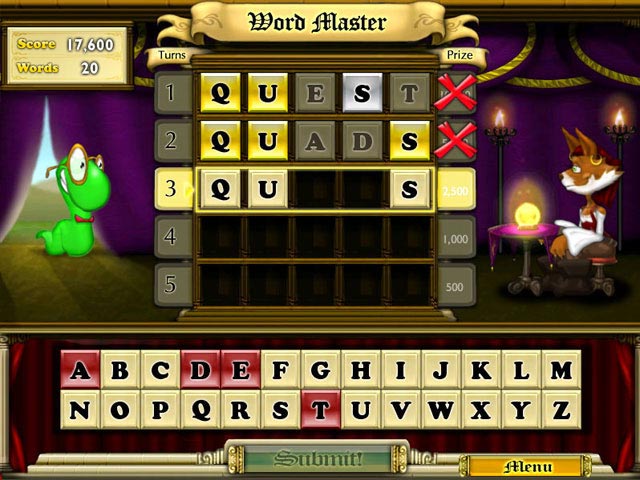 Play Bookworm Adventures 1
Bookworm Adventures 1 is available for computer. Including a 3-in-1 bundle which contains ALL 3 Bookworm Games (1, Adventures and Adventures Vol. 2).
Available from US Amazon: PC CD or Bookworm Bundle. And UK Amazon: PC CD or Bookworm Games Bundle.
More Top Big Fish Games
See also 10 Top Free Full Version BigFish Games for PC. With free hidden object, time management and simulation games.
And also 10 Free Online Mahjong Games – Traditional & New. For more top free Mahjongg games for computer.
Don't forget, you can Subscribe or Follow and get updates of my latest posts.