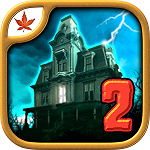 The long-awaited sequel, Return to Grisly Manor.
A top new mystery adventure game.
From Fire Maple Games.
Available on the app stores for tablet and phones.
I've included details of this new game. As well as details of the first Grisly Manor game.
Grisly Manor Games
Both games feature:
* Beautiful hand-painted graphics.
* Lots of items to collect and puzzles to solve!
* Original soundtrack and sound effects!
* A journal that keeps track of all the symbols and clues that you encounter.
* A dynamic map that shows all of the areas you have explored. As well as your current location.
* A complete hint system built right into the game.
From: Fire Maple Games.
Genres: Puzzle, Adventure, Point & Click.
1. The Secret of Grisly Manor
Released: October 2010.
Plot: Grandpa always was a little eccentric. A fantastic engineer, he was always buried in his work, always coming up with new ideas and inventions that as a child held you wide-eyed in awe. Now, after many years, you return to the house that holds so many fond memories for you, with a promise from Grandpa to show you something truly amazing. You can't even begin to imagine what it could be! It's a dark and stormy night as you arrive at Grisly Manor. The rain beats down hard, lightning flashes in the sky as the sound of thunder fills your ears. You already feel a little creeped out, but when you make your way inside, the house is curiously empty. Grandpa is nowhere to be found…
Play The Secret of Grisly Manor
Available on Amazon: Fire Maple Games Ultimate Adventure Collection for Fire Tablet (US) or Fire Tablet (UK). This Fire games bundle includes The Secret of Grisly Manor, The Lost City and The Hidden World.
2. Return to Grisly Manor
Released: August 2016.
Plot: Greedy developers BUYCO want to build their next MegaMart superstore on the site of Grandpa's newly renovated Grisly Manor! To stop them from demolishing his home, Grandpa just needs to prove he owns the land – but this is where it gets tricky…Being the scatter-brained inventor you know and love, the last place Grandpa remembers seeing the deed was in the old manor – back in 1999! Explore the new house, help Grandpa repair his time machine, and travel back to the original Grisly Manor – before all of its secrets and memories are swept away forever!
More Fire Maple Point-and-Click Adventure Games
* The Lost City Adventure Fire Game.
* Thickety Creek for Fire.
More Point-and-Click Mystery Games
For more point-and-click puzzle mystery adventures lists:
* Lifeline Game Series.
* Syberia Game Series.
* Blackwell Game Series.
* Agatha Christie Adventure Games.
* Sherlock Holmes Games List.
* Lost & Alone – Point & Click Adventure Escape for iOS.
See also my latest Point-and-Click Adventure Game Reviews. For computer and mobile.