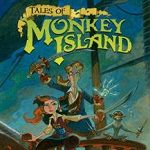 This post details the Monkey Island series. Listed in order. With point-and-click adventure games for PC. Follow the exploits and misadventures of wannabe-pirate Guybrush Threepwood in a classic swashbuckling pirate adventure series!
From Lucasfilm Games and 5th game by Telltale Games. All chapters available for PC. Some episodes are also available on other platforms (Mac, PS, Xbox).
For some games suggestions with game play like Monkey Island. See my list of posts below.
September 2022 Update: The 6th installment is now out on Windows and Nintendo Switch.
Monkey Island Series
From: Lucasfilm Games/5th Game by Telltale Games.
Genres: Point & Click, Graphic Adventure, Pirates, Puzzle, Funny, 3rd Person.
1. The Secret of Monkey Island (a.k.a Monkey Island I)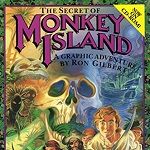 First released: 1990. Special Edition (SMISE) released: 2009.
Plot: Ayyyyye Matey! Welcome t' the Port of Melee, Mr. Guybrush Threepwood. So ya think you've got what it takes t' be a swashbucklin', bloodthirsty pirate like the rest of us, do ya? Ya think a young swabby like yourself's gonna be the first t' tame mysterious Monkey Island? Well, laddy, there's more t' bein' a buccaneer than just swingin' a sword and swillin' gallons of Grog. First ya got t' pass the seadog test. Good luck t' ya mate – yar gonna need it. [Source: Amazon]
Game play includes:
Countless Head-Scratching Puzzles.
Easy Point-And-Click Interface For Total Character Control.
Fully Interactive Cast Of Characters And Personalities.
Extremely Large Graphic Adventure Universe.
Hundreds Of Items And Locations To Examine and Explore.
*Monkey Island Special Edition Bundle (Includes updated Monkey Island 1 and 2) available for:
2. Monkey Island 2: LeChuck's Revenge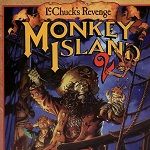 First released: 1991. Special Edition (MI2SE) released: 2010.
Plot: In Monkey Island 2 Guybrush's continues his adventures… After "defeating" the ghost pirate LeChuck. Guybrush is now in pursuit of the legendary treasure of Big Whoop! But a zombie LeChuck has returned seeking revenge!
Special Edition features includes:
High-definition graphics, complete voice over and renewed music score.
Special Edition and Classic modes.
Enhanced gameplay.
In-game hint system.
Direct control: Choose how you play.
Interactive object highlighting provides quicker clues to finding hidden objects.
*Monkey Island Special Edition Bundle (Includes updated Monkey Island 1 and 2) available for:
3. The Curse of Monkey Island
First released: 1997.
Plot: Guybrush Threepwood once again takes up dull blade and rapier wit against the nefarious demon-pirate LeChuck. In Curse, Guybrush must save his one true love, Elaine Marley, from being turned into the evil pirate's zombie bride. But, hoping to marry Elaine himself, Guybrush unknowingly slips a cursed ring onto her finger, transforming her into a gold statue. He must then find a way to change Elaine back to her beautiful self and stop LeChuck from carrying out his sinister plans. Aye, 'tis a rollicking adventure that is sure to challenge the mind and shiver a few timbers.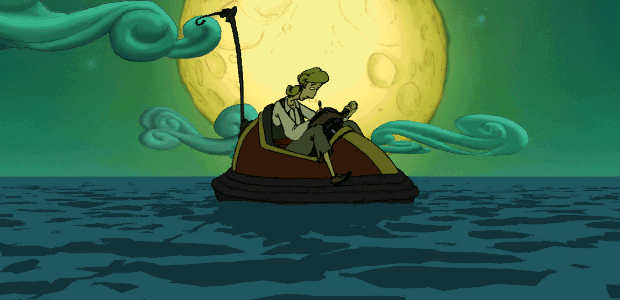 Game play includes:
Film quality animation, voice, sound and music – the undead come to life before your very eyes!
A barrel of gameplay – estimated 30 plus hours!
Two difficulty settings: regular and Mega-Monkey (now with more puzzley goodness).
New and improved insults suitable for swordfights and other fun occasions!
More inside jokes and other wisecracks!
*Available for PC on:
4. Escape from Monkey Island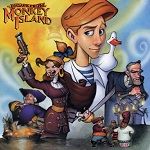 First released: 2000.
Plot: Carrying on where Curse of Monkey Island left off, Escape from Monkey Island starts with Guybrush and his now-wife Elaine Marley-Threepwood, The Governor of the Tri-islands, returning back to the peaceful island of Mêlée, only to find that not all is what it seems, and while they have been battling the high seas, the evil villain Charles L Charles has plotted to take over the islands. All sounds hectic stuff, and you would be right in thinking so, but Escape from Monkey Island is not about being hectic, so sit back, take a sip of that tea you've got next to the computer and let's take it easy.
Game play includes:
Play as Guybrush Threepwood, newly returned from his honeymoon with Governor Elaine Marley-Threepwood.
Features the artistic style of Curse of Monkey Island.
Uses the 3-D engine from Grim Fandango.
Explore the Tri-Island area of LucasArts' anachronistic Caribbean to stop the villainous Charles L. Charles and his Ultimate Insult.
*Available for PC and Mac on:
5. Tales of Monkey Island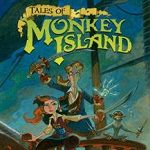 Released in 5 Episodes: 2009. Edition releases: Deluxe (2010), Collector's (2011), Premium (2011).
5.1 Launch of the Screaming Narwhal
Plot: The saga begins with a heated battle involving the brave but often bumbling Mighty Pirate Guybrush, his beloved wife Elaine, and their nemesis, the demon pirate LeChuck. When the showdown goes up in flames, Guybrush finds himself marooned on a strange island with winds that always blow inward. How will our hero manage to escape this meteorological anomaly? What has become of LeChuck and Elaine? And what's the story with the infectious voodoo pox that's spreading across the Caribbean, causing Guybrush and other pirates to act like unruly hooligans?
5.2 The Siege of Spinner Cay
Plot: Guybrush's adventures continue on the high seas as pox-plagued pirates lay siege to the innocent Mer-People. In between defending the Mer-People and dodging the persistent pirate hunter hot on his trail, Guybrush manages to catch up to his beloved wife and despised arch-nemesis — but their reunion is short-lived. Now Guybrush must focus on eradicating the Pox of LeChuck before more harm can be done.
5.3 Lair of the Leviathan
Plot: In the third Tales of Monkey Island chapter, Guybrush gets in deep (literally!) as his quest for the voodoo exfoliating La Esponja Grande takes a scenic twist — through the guts of a giant manatee! Trapped in the belly of the beast, our hero encounters a surprising band of castaways, including the long-lost (and obsessive-compulsive) explorer Coronado De Cava. Can the Mighty Pirate win the suspicious De Cava's trust? Will sexy pirate hunter Morgan LeFlay prove to be a ruthless enemy, or an unlikely ally? Will the group find La Esponja Grande in time to save Elaine from the rampant Pox of LeChuck? And will the world be crushed by the gnashing teeth of a certain demonic skull?
5.4 The Trial and Execution of Guybrush Threepwood
Plot: Guybrush returns to Flotsam Island, but forget about a hero's welcome. Handed over to De Singe by the backstabbing Morgan LeFlay, Guybrush is seized by an angry mob and put on trial! With a silk-tongued prosecutor in his face and a hangman's noose dangling over his neck, Guybrush must figure out how to defend himself against grave accusations. Meanwhile, the determined Marquis sets his sights on a new and far more attractive test subject. How on earth will the Mighty Pirate get out of this mess? Tales of Monkey Island tension continues to mount in "The Trial and Execution of Guybrush Threepwood." Brace yourself for a shocking revelation that will rock the world of Monkey Island to its core.
5.5 Rise of the Pirate God
Plot: In the final episode, our piratey heroes meet their ultimate match with the Rise of the Pirate God. Can the world of Monkey Island be saved? Find out as the Tales of Monkey Island saga comes to its thrilling conclusion.
*All 5 Tales of Monkey Island available on:
6. Return to Monkey Island
Released: September 19, 2022.
Description: Return to Monkey Island is an unexpected, thrilling return of series creator Ron Gilbert that continues the story of the legendary adventure games The Secret of Monkey Island and Monkey Island 2: LeChuck's Revenge developed in collaboration with Lucasfilm Games.
Plot: It's been many years since Guybrush Threepwood was last locked in a battle of wits with his nemesis, the zombie pirate LeChuck. His true love, Elaine Marley, has turned her focus away from governing and Guybrush himself is adrift and unfulfilled, having never found the Secret of Monkey Island. Hip, young pirate leaders led by Captain Madison have shuffled the old guard from power, Melee Island has taken a turn for the worse, and famed businessman Stan has been imprisoned for 'marketing-related crimes'.
Banter with old friends and new faces on familiar islands now under dangerous new leadership. Then, take to the high seas and explore the new and unknown as you work your way out of tough predicaments. Clever puzzles, bizarre situations, and devastating ripostes are all that stand between Guybrush and glory. [Source: Steam]
More Classic Point-and-Click Games
For more classic point-and-click game play like Monkey Island. For PS4, Xbox One, Android, iOS, PC, Mac. You might also like:
Thimbleweed Park for Mac, iPad and iPhone.
Broken Age – Indie Adventure Game.
Broken Sword Series: 5 The Serpent's Curse on Switch.
Syberia Games for PC/Mac Download, iOS, PS4, Xbox One and Switch.
Blackwell Adventure Series by Wadjet Eye for Computer and Mobile.
Aveyond Kingdom JRPG Series
OXENFREE Adventure Game for PC, Mac, iOS and PS4.
For more point-and-click game series. See my Game Series A-Z Index page.
Don't forget you can Subscribe or Follow to keep up to date with my latest posts.
*The above article may contain affiliate links.