OXENFREE, a supernatural adventure. With story-driven game play. And unique visual style!
Available on Amazon for PC and Mac download. Plus on consoles – Nintendo Switch and Playstation 4. For more adventure games for Switch, see my list of posts below.
Update April 2021: News of the sequel has been released, see my post below.
OXENFREE
From: Night School Studio.
Plot: Oxenfree is a supernatural thriller about a group of friends. Who unwittingly open a ghostly rift. Play as Alex. A bright, rebellious teenager who brings her new stepbrother Jonas. To an overnight party on an old military island. The night takes a terrifying turn when you unwittingly open a ghostly gate. Spawned from the island's cryptic past. How you deal with these events, your peers. And the ominous creatures you've unleashed is up to you. Determine every aspect of Alex's story. While exploring Edwards Island. Uncovering the base's dark past. And changing the course of your friends' lives.
Features
An intelligent conversation system. That changes the story. And your relationships. Based on every decision.
A unique radio mechanic. That allows Alex to communicate. With mysterious spectres. And manipulate her world.
Multiple mysteries to unravel. Spanning decades and lifetimes.
Available from US Amazon for: PC and Mac Online Code, PlayStation 4 or Nintendo Switch.
And from UK Amazon for: PC and Mac Online Code or PlayStation 4.
You might also like: Oxenfree II Release for PC, Mac and Nintendo Switch.
BBC Radio Plays: Charles Paris Mysteries in Order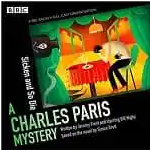 Do you love BBC Radio mystery dramas and plays?
Check out the full cast dramatisations of Simon Brett's popular mystery series! Starring Bill Nighy as the actor/amateur detective. Available for free on audiobook.
For details including a list of all the radio play adaptations in this popular UK radio series (listed in order of release): BBC Charles Paris Mysteries in Order.
More Top Action Adventure Games for Switch
For more top adventure games for Nintendo Switch. Check out my posts:
Truberbrook Point-and-Click Mystery for Switch and PS4.
Stranger Things 1: The Game.
The Swindle Cyber Crime for Switch.
And also my latest Nintendo Switch Games and Action Adventure Games news, reviews and series lists.
For more details about the Switch console, check out my Nintendo Switch on Amazon Review.
Don't forget you can Subscribe or Follow to keep up to date with my latest posts.