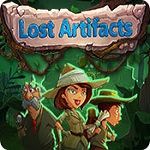 This post details the Lost Artifacts games list. For Amazon Fire, PC and Mac Download.
With all of the games in the time management adventure game series. Including Collector's Editions which include bonus content, more game play and extra features. From Creobit, GameOn Production and 8 Floor Games.
For more top time management games series lists, see my posts included below.
January 2020 Update: Lost Artifacts 5 now out. See below for details.
Lost Artifacts Games List
Developers: Creobit/GameOn Production | Publisher: 8Floor | Genres: Time Management Games, Building, Strategy, Tycoon, Point & Click.
Lost Artifacts game series: 1. Ancient Tribe Survival | 2. Golden Island | 3. Soulstone | 4. Time Machine | 5. Frozen Queen
1. Ancient Tribe Survival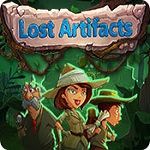 Released: July 2017.
Plot: For a long time, Claire worked as a historian and archeologist at a prominent university.
When she chose her course in life she thought she'd be searching for ancient treasure, but instead ended up spending all her time reading.
Then, one day Claire noticed a peculiar coincidence. Had she really uncovered a treasure map of the ancient Aztec people?
Without a second thought she left in search of the treasure. She had been waiting for so long and couldn't miss her chance.
Play Lost Artifacts 1: Ancient Tribe Survival
Available on Amazon for: Fire Tablet (US) or Fire Tablet (UK).
2. Golden Island
Released: September 2017.
Plot: Claire and her team are in trouble again.
Their airplane flew into a terrible storm and crashed on an uninhabited island in the middle of the ocean.
When they woke up, our heroes went out in search of help.
After wandering a while, Claire found a village of Atlanteans and offered to help them get their homeland back, and to teach the wicked ruler of the underwater world a lesson.
Play Lost Artifacts 2: Golden Island
Available on Amazon for: Fire Tablet (US) or Fire Tablet (UK).
3. Soulstone
Released: May 2018.
Plot: The legendary Soulstone has been stolen from the national museum and Claire, along with her loyal helpers, have witnessed the revival of the terracotta army and an insidious Emperor bent on awakening an ancient dragon and conquering the world! Fortunately, our heroes have other plans. Go on an adventure full of myths and legends as you master exciting time management levels. Restore statues, build epic buildings, overcome challenges and manage resources in your quest to stop the terracotta army!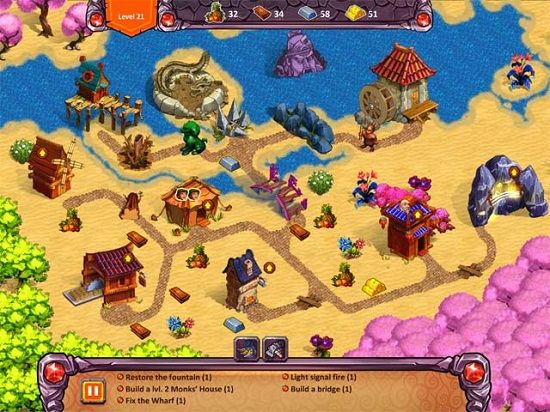 4. Time Machine
Plot: A mysterious villain is playing with time and the consequences are devastating. His goal is to bring about a new world order by returning the Priest, the King of Atlantis and the Ancient Emperor! Claire and her friends must find out who the villain is and stop him and all his minions.
Play Lost Artifacts 4: Time Machine
Available on Amazon for: Fire Tablet (US) or Fire Tablet (UK).
5. Frozen Queen
Plot: Claire and her friends are back, but their new archaeological expedition risks turning into a tragedy when they inadvertently wake a magical Frozen Queen in a deep sleep! The queen believes Claire has stolen her treasures and has set out to freeze the entire world in retaliation! It's up to Claire and her friends to find the missing artifacts, return them to the Frozen Queen and thaw her icy plans for revenge.
More Top Time Management Games
For more time management game series lists for computer and mobile. You might like:
Roads of Rome Game Series for PC, Mac, mobile.
Roads of Rome 4: New Generation – Review.
Adelantado Trilogy Series List.
12 Labours of Hercules Games.
Monument Builders Series List for PC, Mac, mobile.
Virtual Villagers Games from Last Day of Work.
Emily's Delicious Games Series List.
Free Full Version Download of My Tribe Game for PC and Mac.
Totem Tribe for Full Version PC Download.
GameHouse Sally Spa Games in Order.
See also my New Time Management Games posts. For computer and mobile. Including series lists, new releases and reviews.
Don't forget, you can Subscribe or Follow and get updates of my latest posts.