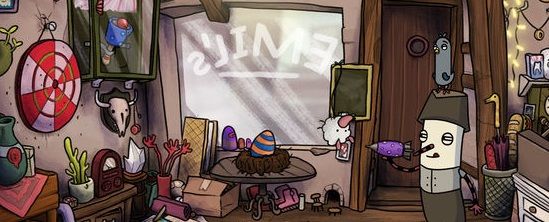 This post details the Inner World games. Puzzle-solving mystery adventure games featuring a flute-nosed family! For PC, Mac, Switch, Xbox One and PS4.
For more new point-and click adventure games. Check out my list of posts, included below.
The Inner World Games
Developer: Studio Fizbin.
Publisher: Headup Games.
Genres: Adventure, Point & Click, Puzzle, Story Rich, Funny, Comedy.
1. The Inner World
Released: 2013.
Plot: Robert is a novice, a bit clueless, but with a heart of gold. He lives a peaceful life as a court musician in Asposia's largest wind monastery.
Contrary to the laws of physics, Asposia is an enormous, hollow space surrounded by an infinite expanse of earth.
The world's air is provided through three wind fountains…
But as one wind fountain after the other petered out and the wind gods came to Asposia. All of a sudden Robert finds himself in the middle of a whirlwind.
Play The Inner World 1
2. The Inner World: The Last Wind Monk
Released: 2017.
Plot: Solve mind-bending puzzles in a world full of mystery and save the family of the flute-noses! Their dynasty has been watching over Asposia for centuries on end. In secret, they fill the roly-poly world with light and life. But when their existence is discovered, they become hunted. Emil, a trader for odds and ends, made all the Asposians believe that the dynasty is in cahoots with dark forces. The only one who can stop the evil Emil is the heir to the throne: Robert. He has been petrified for three years, though. With a huge dose of enthusiasm, but little to no idea what he's actually doing, he embarks on an adventure to find the legendary last wind monk.
Play The Inner World 2: The Last Wind Monk
More Top New Point-and-Click Games
For more 2017 point-and-click adventure game releases. You might like:
* Life is Strange: Before the Storm – Mac, PC, PS4, Xbox One.
* Morphite Adventure Game, New out for Mobile.
* The Long Dark, Survival Sim Game for PC and Mac.
* Subject 13 Puzzle Adventure Game for PC and Mac.
* True Fear Forsaken Souls Trilogy by Goblinz.
See also my latest Point-and-Click Games News and Reviews. For computer, consoles and mobile.
Don't forget, you can Subscribe or Follow and get updates of my latest posts.