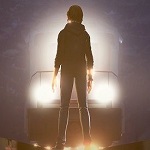 Life is Strange: Before the Storm.
New release in this narrative driven adventure series.
Now available on Amazon. For PC, PS4 and Xbox One.
For details of the first game in this series. And for more top new story-driven games. See my posts included below.
March 2018 Update: Bonus Episode now out, see below for details.
Life is Strange: Before the Storm
Developer: Deck Nine.
Publisher: Square Enix.
Genres: Story Rich, Multiple Endings, Mystery, Psychological Horror, Point & Click.
Prequel to Life is Strange 1. First Episode Released: August 2017.
Description: You play as sixteen-year old Chloe Price who forms an unlikely friendship with Rachel Amber. A beautiful and popular girl destined for success. When Rachel learns a secret about her family that threatens to destroy her world. It is her newfound friendship with Chloe that gives her the strength to carry on. No longer alone the girls must confront each other's demons and together, find a way to overcome them. [Source: Amazon]
Game Play and Features
Life is Strange: Before the Storm is a new three-part standalone adventure.
Set three years before the first game in the BAFTA award-winning franchise.
Choice and consequence driven narrative adventure.
Multiple endings depending on the choices you make.
'Backtalk' – A risk/reward conversation mode that allows Chloe to use her barbed tongue to provoke or get her way.
Make your mark on the world with witty tags and drawings.
Choose Chloe's outfit and see how people react to your look.
Life is Strange: Before the Storm – Episode List & Release Dates
Awake – released: August 31, 2017.
Brave New World – released: October 19, 2017.
Hell is Empty – released: December 20, 2017.
Bonus Episode – Farewell – released: March 5, 2018.
Life is Strange: Before the Storm on Amazon
Available from Amazon including Limited edition, from:
US Amazon for: PC DVD (US), PS4 or Xbox One (US).
UK Amazon for: PC DVD (UK), PS4 or Xbox One (UK).
For details of the full series, see my post: Life is Strange Games Listed in Play and Release Order.
More Atmospheric and Interactive Adventure Games
For more top atmospheric and interactive adventure games to play on PC, Mac, PS4, Xbox One, Switch, Android, iOS and Fire. You might like:
L. A. Noire Dark Detective RPG. Available on PC, PS4, Xbox One and Switch.
Tormentum – A Dark Mystery Adventure Game. For Amazon Fire, iOS, Android, PC and Mac download.
Kathy Rain, Point-and-Click Adventure Game for iOS.
A Study in Steampunk: Choice by Gaslight. On Amazon Fire, iOS and Android.
The Sinking City by Frogwares Dark Open World Investigation Game. For PS4, Xbox One and Switch.
Telling Lies – Investigation Game for Computer, iOS and Android.
Beholder 1 for Computer and Mobile.
10 Best Adventure Games for Mac Download.
See also my latest Story-Driven Games news and reviews.
Don't forget you can Subscribe or Follow to keep up to date with my latest posts.