This post details the Christmas Spirit game series from Domini Games. I am listing all the games in the holiday-themed HOPA series, so that you can play them chronologically.
Most of the games are including Collector's Edition releases, with bonus content and extra features – so always try to get the Collector's Edition if you can.
Available for computer, tablet and phone, this is one of the best and most popular Christmas-themed hidden object series of games right now and one of my favorites. So let's check out all the games in the series below!
The Christmas Spirit Games in Order
From: Domini Games | Genres: Mystery, Christmas Themed, Hidden Object, Puzzle.
The Christmas Spirit game series: 1. Trouble in Oz | 2. Mother Goose's Untold Tales | 3. Grimm Tales | 4. Journey Before Christmas | 5. Golden Ticket
1. The Christmas Spirit: Trouble in Oz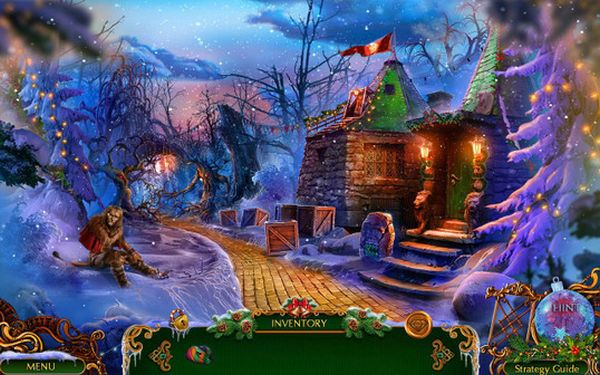 Released: December 2017.
Plot: Oz is celebrating its first Christmas, and your friends want you to join them for the festivities! But your joy is short-lived when goblins steal all of Oz's presents!
It's up to you to track down the culprits and bring the Christmas spirit back to the people. Can you save the holidays in time?
2. The Christmas Spirit: Mother Goose's Untold Tales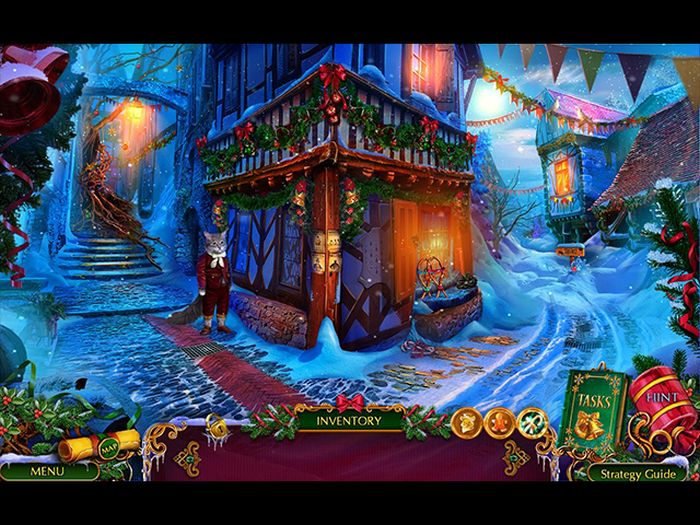 Released: December 2018.
Plot: Old King Cole was once a merry old soul, but now he rules the Fairytale Kingdom with a greedy iron fist. And now that Mother Goose has gone missing, he's decided to cancel Christmas!
This is the last straw for the King's poor subjects, and they call on you to help find Mother Goose and restore the kingdom to peace and happiness.
Team up with classic Mother Goose characters like Humpty Dumpty, the Three Blind Mice, and the Crooked Man to stop King Cole's tyranny and bring Christmas to the Fairytale Kingdom in this charming hidden-object puzzle adventure game!
For more details, see my post: The Christmas Spirit 2: Mother Goose's Untold Tales.
3. The Christmas Spirit: Grimm Tales
Released: December 2019.
Plot: When your father, Wilhelm Grimm, is pulled into one of his storybooks by Dame Gothel's dark magic, you must set out on an adventure into Fairytale Land to stop Dame Gothel, save Wilhelm, Fairytale land, and the future of Christmas itself!
Meet classic characters and make new friends as you journey through Fairytale Land in this unforgettable Yuletide quest!
For more details, see my post: Christmas Spirit 3: Grimm Tales.
4. The Christmas Spirit: Journey Before Christmas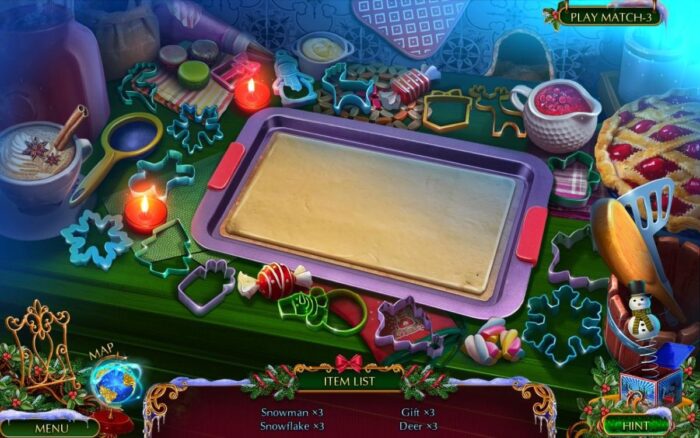 Released: December 2020.
Plot: The North Pole is bustling with activity, and your small doll heart is filled with excitement when a little girl asks for you for Christmas!
But being a gift isn't always easy, and not everyone at the North Pole wants people to have a happy holiday. Someone's trying to keep toys from reaching their new homes, and time's running out!
Can you and the other toys make it to your new homes by Christmas day? Find out in this enchanting Hidden-Object Puzzle adventure!
5. The Christmas Spirit: Golden Ticket
Released: December 2021
Plot: It's almost Christmas, and all you want is to prove to your parents that holiday miracles really do exist. So, you're overjoyed when you receive a Golden Ticket for the Polar Express to Santa's home!
But your excitement is quickly overshadowed by children from the naughty list taking over the Polar Express! They're tired of only ever receiving coal, and this year they're after everyone's gifts for themselves!
Can you stop them from stealing the world's gifts and destroying the Christmas spirit? Find out in this enchanting Hidden-Object Puzzle adventure!
More HO Series by Domini Games
You will surely love playing other games developed by Domini Games (the studio behind The Christmas Series we've talked about above):
And check out another Christmas themed hidden object adventure series which are worth playing: Christmas Stories Series from Elephant Games.
Conclusion
Now you have all the games in The Christmas Spirit series, listed in order based on their release date. I was hoping for a brand new game in the series this year, but apparently we have to wait some more to get it.
If a new game does get released in this series before I manage to cover it, don't hesitate to let me know in the comments section below so I can update the list and keep it up to date.