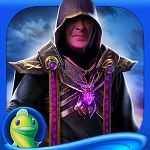 Here, you can check out the complete Enchanted Kingdom series list in order. This hidden object mystery adventure game series from Domini Games is one of my all time favorites.
Available for download on PC, Mac, iPad, iPhone, Android and Amazon Fire. I am listing the games in the series below based on the release date of the Collector's Edition. These include extra content, more game play and bonus features.
So without further ado, let's check out all the Enchanted Kingdom games in order in case you want to play them in chronological order.
*Play Domini Games Hidden Object Games (free versions available) on Amazon. (affiliate link)
Enchanted Kingdom Series in Order
From: Domini Games | Genres: Mystery, Hidden Object, Puzzle.
1. Enchanted Kingdom: A Dark Seed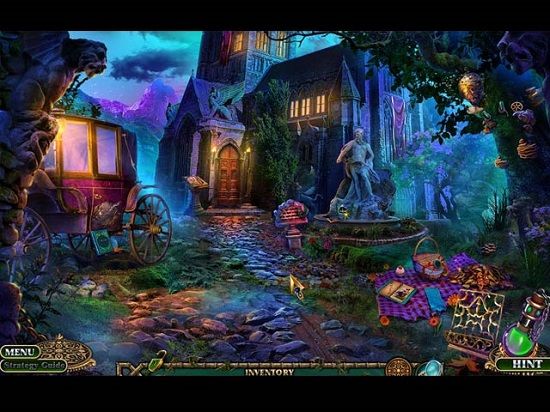 Released: April 2017.
Plot: A strange disease called Dark Seed has begun spreading, and it threatens to destroy order throughout the entire Tar Empire.
You are immune to illness, which means you are the only person who can safely investigate this disease.
But while your ability might shield you from sickness, it can't save you from the dark and violent forces that stand in your way! Can you survive long enough to find a cure and restore peace to the empire?
For more details of this chapter, see my Enchanted Kingdom: A Dark Seed post.
---
2. Enchanted Kingdom: A Stranger's Venom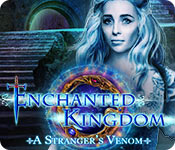 Released: September 2017.
Plot: After doing such a great job, it's time for you to enjoy a night at the theater!
A new performance is premiering and you've got front row seats.
But things take a deadly turn when a rising star attacks the head of the company, and that is just the beginning!
Can you prevent the dangerous crystals from destroying your Order and the world?
For more details of this chapter, see my Enchanted Kingdom: A Stranger's Venom post.
---
3. Enchanted Kingdom: Fog of Rivershire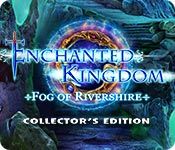 CE release: February 2018.
Plot: The citizens of Rivershire have been infected with a terrible disease that is slowly turning them into monsters.
Because of your magical immunity, you are the only person that can heal the townsfolk. And stop the infection from spreading across the entire kingdom!
Can you locate the source of the infection and return the town to normal before it's too late?
Enchanted Kingdom 3 is one of my picks for the Best Hidden Object Mystery Games 2019 for Amazon Fire!
---
4. Enchanted Kingdom: Fiend of Darkness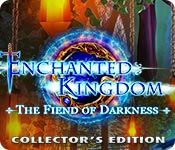 CE release: August 2018.
Plot: Chaos has erupted in the Tar-Liss Empire! An ancient dragon has returned to take revenge on the Empire and transform all of humanity into dark creatures.
Can you heal the residents of the Empire and put a stop to his evil plan, or will you find yourself his next victim? Find out in this exhilarating hidden-object puzzle adventure game!
Collector's Edition includes: Bonus chapter and collectibles. Earn and spend your Dragon Eggs to equip your Imperial Laboratory! Exclusive artwork, wallpapers, achievements, and more! And strategy guide.
5. Enchanted Kingdom: Descent of the Elders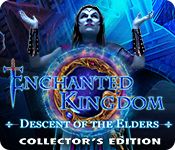 Released: March 2019.
Plot: You were visiting the Northern Tar Empire to test out some new instruments from the Medico Imperium research labs when suddenly life-draining crystals rain down from the sky!
Meanwhile, a legendary floating island appears ominously overhead. You'll need all your skills as a healer to save your people and to broker peace before war breaks out!
Does the return of their lost civilization spell the end of yours? Find out in this epic hidden-object adventure puzzle game!
---
6. Enchanted Kingdom: Arcadian Backwoods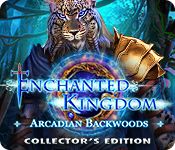 Release: October 2019.
Plot: Welcome to the land of Arcadia! It's been nearly 100 years since the greatest battle between the Arcadians and the Kinzuls, and all that remains of the Kinzul Empire are fables and myths… Or so everyone thought.
Reports of Kinzul sightings in the Arcadian Forrest have reached your Academy, and it's up to you to investigate!
Your quest quickly takes a dark turn when you find mystical warriors with old scores to settle and a leader bent on the world's destruction! Can you work with demigods and stop the Kinzuls from regaining their former glory?
---
7. Enchanted Kingdom: The Secret of the Golden Lamp
Release: May 2020.
Plot: Training to be a Forest Keeper is hard work, but with your dad as a teacher, you couldn't be happier. That is until a dangerous genie appears, kidnapping your dad into another realm!
You quickly find it's no mere coincidence as you uncover a mystical side to your dad's past you never could have dreamed of, one that will change your life forever.
Can you stop a vengeful genie from tearing your world apart and save your dad before it's too late? Find out in this spectacular Hidden-Object Puzzle adventure!
---
8. Enchanted Kingdom: Master of Riddles
Release: November 2020.
Plot: Long ago, the last powerful wizard sealed the kingdom's magic with complicated riddles and hid them throughout the empire.
With war on the horizon, you've been called to aid the Emperor in restoring magic to save your home! But this will be no easy task. Your grandfather hid magic for a reason, and its power could be used for both good and evil.
Do you have what it takes to travel the realm and save your home before it's too late?
---
9. Enchanted Kingdom: Frost Curse
Release: August 2021.
Plot: The King is dead! As his son, it's up to you to rule the Empire. But any plans for a coronation are quickly thwarted when a frigid foe attacks your realm!
A long-lost relative is after your crown, and their dark magic threatens to take the land into an age of cold darkness.
Do you have what it takes to defeat them and save your home in time? Find out in this exhilarating Hidden-Object Puzzle adventure!
More Domini Games HO Series
For more hidden object adventure games by Domini Games, see also:
See also my latest Domini Games for PC, Mac and Mobile posts, including series lists, new releases and reviews.
Also, if a new game is launched in the series and I fail to cover it on time, don't hesitate to let me know by commenting below. Much appreciated!