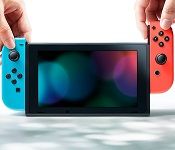 Nintendo's latest video game system, the Nintendo Switch console. A combo of video games console – so you can play video games on your TV.
PLUS the portability of playing games on the go. With it's tablet-like, handheld device.
Plus all-new game modes with the Joy-Con controllers. Check out details of the Amazon bundle available, below.
This video games console is perfect for all the family. With an excellent variety of single-player and multi-player games to play on the Switch. See below for some recommended Nintendo Switch game titles. Including all new games, Wii U ports and games remastered for this new system.

Nintendo Switch Console
Description: Introducing Nintendo Switch, the new home video game system from Nintendo. In addition to providing single and multiplayer thrills at home, the Nintendo Switch system can be taken on the go so players can enjoy a full home console experience anytime, anywhere. The mobility of a handheld is now added to the power of a home gaming system, with unprecedented new play styles brought to life by the two new Joy-Con controllers. [Source: Amazon]
Nintendo Switch Features
1. Play at Home
At home the main unit rests in the Nintendo Switch dock, which connects the system to the TV and lets you play with family and friends in the comfort of your living room.
2. On-the-Go
Lift Nintendo Switch from the dock and instantly transition to handheld mode for on-the-go gaming. By sharing Joy-Con, players can go head-to-head while away from home. You can also enjoy the same great games in tabletop mode by using the included stand to prop the system up.
3. New Play Styles
Remove the detachable Joy-Con from either side of Nintendo Switch for more play styles:
One player can use a Joy-Con in each hand.
Two players can each take one.
Multiple Joy-Con can be employed by numerous people for a variety of gameplay options (additional Joy-Con sold separately).
Slip a set of Joy-Con into a Joy-Con grip accessory, mirroring a more traditional controller. Or, select an optional Nintendo Switch Pro Controller.
Bring together up to 8 Nintendo Switch systems for local face-to-face multiplayer.
BBC Radio Plays: Charles Paris Mysteries in Order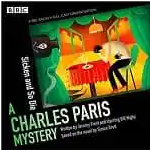 Do you love BBC Radio mystery dramas and plays?
Check out the full cast dramatisations of Simon Brett's popular mystery series! Starring Bill Nighy as the actor/amateur detective. Available for free on audiobook.
For details including a list of all the radio play adaptations in this popular UK radio series (listed in order of release): BBC Charles Paris Mysteries in Order.
Best Nintendo Switch Family Board Games
For some top family board games for Switch. You might like:
Clue/Cluedo Switch – Play Against Computer or Online Multiplayer.
RISK Global Domination and TRIVIAL PURSUIT for Switch.
Hasbro's MONOPOLY on Nintendo Switch.
Drawful 2 on Nintendo Switch.
Jackbox Family Party Games – How to Play on Switch, PS4, Apple/Fire/Roku TV.
Top Point-and-Click Games for Switch
Best point and click games on Switch. Plus story-driven Switch games. Check out my posts:
Truberbrook Point-and-Click Mystery for Switch and PS4.
Stranger Things 1: The Game.
The Swindle Cyber Crime for Switch.
Mario Kart 8 Deluxe for Nintendo Switch
Released: June 2018.
Mario Kart 8 Deluxe, the latest version includes new content and features. Updated from the Wii U version. And now also compatible with the Nintendo Labo kit. So you can use the cardboard creation handlebar and software to play it on!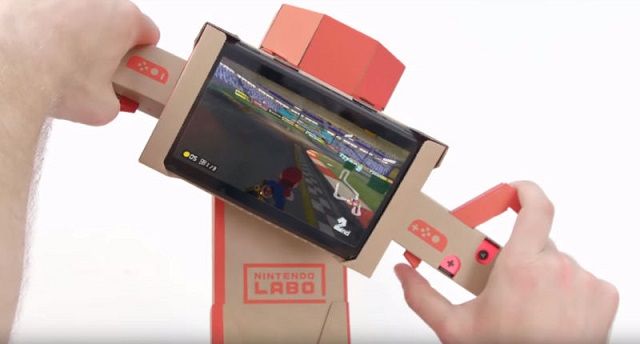 Mario Kart 8 Deluxe for Switch with Labo Motorbike Handlebar
Available on Amazon:
Nintendo Labo Toy-Con 03: Vehicle Kit
Released: September 2018.
Description: Introducing Nintendo Labo, a new line of interactive make, play and discover experiences. Designed to inspire creative minds and playful hearts alike. Together with the Nintendo Switch console, the Nintendo Labo kits provide the tools and technology to make fun DIY creations. Play games with your creations. And discover how Nintendo Switch technology shapes ideas into reality.
Assembling sheets of cardboard into a variety of shapes called Toy-Con, and combining them with Nintendo Switch, you can bring them to life! Nintendo Labo lets anyone pick up and enjoy making, playing and discovering. With this set, you can drive a car, fly a plane, steer a submarine and more! [Source: Amazon]
Nintendo Labo Vehicle Kit on Amazon
As with all the Nintendo Labo kits. This bundle includes game card containing software for use with the Vehicle Kits included. Nintendo Switch console is required, sold separately.
With this set, you can drive a car, fly a plane, steer a submarine and more!
More Top Nintendo Switch Games on Amazon
More top Switch game releases on Amazon US and UK:
Battle Chasers: Nightwar RPG for Mac & Nintendo Switch.
Crash Bandicoot NSane Trilogy for Switch, Xbox One, PC and PS4.
South Park and The Fractured But Whole.
Cat Quest – A Grand Adventure of Dragons, Magic and Cats!.
Lost Sphear JRPG for Nintendo Switch.
Donkey Kong Country Games and New Tropical Freeze for Switch.
Yoku's Island Express for PS4, Switch, Xbox.
Captain Toad: Treasure Tracker for Nintendo 3DS/Switch Downloads.
LEGO Marvel Superheroes 2 New on Mac Appstore, Also on PS4, Switch, Xbox One.
See also my latest Nintendo Switch Games news and reviews.
Don't forget, you can Subscribe or Follow and get updates of my latest posts.