Death Squared from SMG Studio and 1Print Games for Nintendo Switch.
A puzzle game about cooperation, communication, and robot explosions!
Play with 1, 2 or 4 players. Now updated with new levels, game modes, color-blind options and more!
For more mind-bending puzzles and party games for Switch, see my posts listed below.
Death Squared 4-Player Switch Party Game
From: SMG Studio and 1Print Games | Switch Release: July 2017 | Genres: Puzzle, Co-Op, Online, Multi-Player, Party Game.
Description: Death Squared is a cooperative puzzle game for 1, 2, or 4 players, best enjoyed with loved ones who don't mind a little arguing for the greater good. Prove your teamwork skills in Death Squared as you solve puzzles together or die trying! Each player needs to guide a robot to a color-coded goal, but the path is beset with deadly traps and hazards. Teams of players will need close observation and communication to keep each other alive and discover a solution together. [Source: Amazon]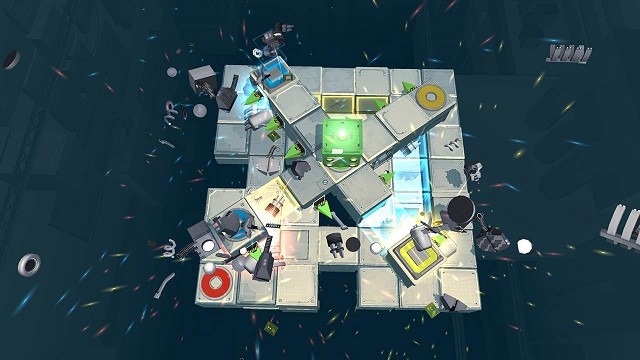 How to Play Death Squared
Complete the main campaign with 1 or 2 players. Or take a group into 4-player Party Mode for the ultimate teamwork trial! For those that can't get enough, head to the 'Vault' to find extra experiments recommended only for the brave!
Features
40x 4-player Party levels.
Full voice acting by Rice Pirate.
30x Vault levels (too hard for the main game).
80x puzzling levels in the Story levels.
A micro-journey of surprise, discovery, mastery, and success.
Only 1500 Death Squared Limited Edition units available worldwide.
Death Squared is available from US Amazon and UK Amazon for Nintendo Switch.
More Party Games for Nintendo Switch
For more top party games for Switch. You might also like:
Clue/Cluedo Switch – Play Against Computer or Online Multiplayer.
RISK Global Domination and TRIVIAL PURSUIT for Switch.
Hasbro's MONOPOLY on Nintendo Switch.
Drawful 2 on Nintendo Switch.
Jackbox Party Games – How to Play on Switch, PS4, Apple/Fire/Roku TV.
And also by SMG Studio, Risk Multi-Player Game for iPad and iPhone.
See also my latest Puzzle-Solving Games – News and Reviews. For computer, consoles, tablet and phone.
Get Blog Post Updates by Email
Never miss a post – just enter your email address below and you'll get an email every time I publish a new post.
[jetpack_subscription_form show_subscribers_total="false" button_on_newline="false" custom_font_size="16″ custom_border_radius="0″ custom_border_weight="1″ custom_padding="15″ custom_spacing="10″ submit_button_classes="" email_field_classes="" show_only_email_and_button="true"]
Or get the latest post alerts by following on Twitter.