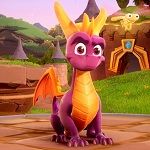 Nintendo have just confirmed the Spyro Reignited Trilogy Switch release date.
Spyro Reignited released last year for Xbox One and PS4. With remastered versions of the first 3 Spyro games.
Will now also be available on Switch later this year.
Included below are the details of this classic 3D platformer remake.
Plus my list of all of the Spyro games in order. For PS1-4, Xbox, DS, Wii, GBA, Gamecube and Switch.
Classic Platformer Remake for Switch
Title: Spyro Reignited Trilogy.
Genres: Adventure, Action, Classic, 3D Platformer, Dragons, Remake, Atmospheric, Family-Friendly, Fantasy, Single-Player.
Developer: Toys for Bob.
Publisher: Activision.
Xbox One/PS4 release: November 2018.
Nintendo Switch release date: September 3, 2019.
Spyro Reignited Trilogy
Description: Spyro's back and he's all scaled up! The original roast master is back! Same sick burns, same smoldering attitude, now all scaled up in stunning HD. Spyro is bringing the heat like never before in the Spyro Reignited Trilogy game collection. [Source: Amazon]
What's Included in Spyro Reignited
Spyro Reignited includes Spyro the Dragon, Spyro 2: Ripto's Rage! and Spyro: Year of the Dragon.
All 3 original Spyro games fully remastered in HD.
100+ levels, remastered with breathtaking graphical updates and improved gameplay controls.
Please note: Internet access required as game requires content download.
Spyro 1 is included on the physical disc. Spyro 2 and 3 are digital versions, so will need to be downloaded and installed after purchase.
Play Spyro Reignited Trilogy
Available on Amazon for Xbox One, PS4 and Nintendo Switch from: US Amazon and UK Amazon.
This is the 14th installment in the Spyro series. See my post: List of All Spyro Games in Order of Release. For PS1 to PS4, Xbox 360 and One. And Nintendo DS, Wii, GBA, Gamecube and Switch!
More Platform Games for Nintendo Switch
For more platformers to play on Nintendo Switch. Check out my previous posts:
TowerFall – 2D Platformer for Switch.
The Swindle – Cyber Crime Platformer for Switch.
GRIS – Platform Game for Nintendo Switch.
Candle: The Power of the Flame for Switch and PS4.
Bomb Chicken by Nitrome for Switch.
Yoku's Island Express for PS4, Switch, Xbox.
Crash Bandicoot NSane Trilogy for Switch, Xbox One, PC, PS4.
And also my latest Nintendo Switch Games news, reviews and series lists.
For more details about the Switch console, check out my Nintendo Switch on Amazon Review.
Don't forget you can Subscribe or Follow to keep up to date with my latest posts.