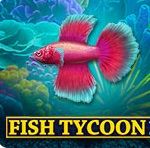 Fish Tycoon management and sim game series.
From Last Day of Work.
Available on PC, Mac, Nintendo DS and mobiles.
Including details of the long-awaited sequel.
Fish Tycoon 2: Virtual Aquarium, now out on Big Fish Games.
For more games like Fish Tycoon. See my list of posts included below.
Fish Tycoon Games
From: Last Day of Work.
Genres: Building, Time Management, Real-Time Strategy, Simulation.
Available on: PC, Mac, iOS, Android, Amazon Fire and Nintendo DS
Fish Tycoon 1
First released: 2004.
Description: In this fish-breeding simulation game, you're in charge of a real-time virtual fish store. Start with a small selection of fish, a little bit of cash and a tank. From there, it's up to you to breed, care for, and help your fish grow.
Advertise to get a bigger customer base and finance purchases of food and medicine by selling your rare species. Take a break anytime you want.
This real-time aquarium simulation will keep going when you're not around even if your device is turned off!
Play Fish Tycoon 1
Available for Nintendo DS from: US Amazon and UK Amazon.
Fish Tycoon 2: Virtual Aquarium
First released: April 2017.
Big Fish release: March 2018.
Description: This is your chance to become a bigger tycoon in this fun sequel to Fish Tycoon. Your goal is to breed, feed, and sell your way from small time merchant to the ultimate aquatic entrepreneur, and you'll have buckets of fun doing it! Explore the lost magic fish of Isola in your customizable and interactive virtual aquarium. This game runs in real-time so be sure to check back and see how much your fish have grown!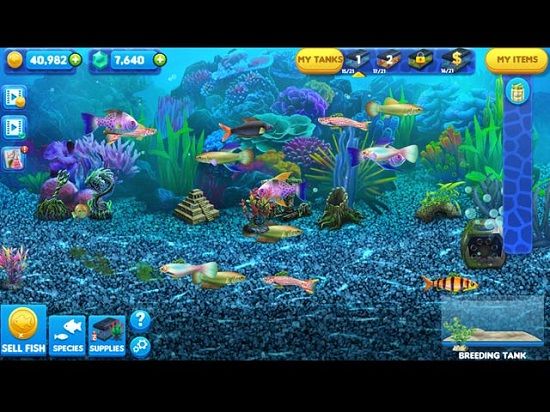 More from Last Day of Work
For more games like Fish Tycoon from Last Day of Work. Available on computer and mobile. You might like:
Virtual Families Games for PC and Mobile.
Last Day of Work's Popular Virtual Villagers Series in Order. Play online or on PC, Mac and mobile.
Virtual Town Game for Mobiles.
See also my New Time Management Games posts. For PC, Mac, iPad and iPhone. Including series lists, new releases and reviews.
Don't forget, you can Subscribe or Follow and get updates of my latest posts.