You've come to the right place to redeem your May 2023 Cookie Run Kingdom codes. These working CRK codes are still available for you and you can try them out now.
Don't wait too long before redeeming these working CRK codes, you might be too late and they might expire. Although most of them are relatively new, they are going to help you a lot to advance in-game.
Maybe another game would help you pass the time easier, so go ahead and check my article on Ninkai Incident redeem codes, if you want to get some goodies.
Redeem These Codes for Cookie Run Kingdom (CRK)
Make sure you write them as they are. Misspells are not allowed. And it's not fun if you can't get the rewards to enjoy the game more. You'll be missing out.
Check out these codes for Cookie Run Kingdom (CRK):
CRKALWAYSLOVEYOU — Redeem to get 1,500 Rainbow Cubes, 3,000 Crystals, 1,000 Radiant Shards, 250,000 Coins, 30 Time Jumpers
If you wrote them down right you'll get your nice rewards on the spot so you can enjoy them in your game.
How to Redeem Codes for Cookie Run: Kingdom (CRK)?
Just make sure you do exactly as I say, and don't skip any steps as all are important for you to redeem the working codes for CRK. Cookie Run Kingdom will become even more fun with your new gifts.
Check out the video to see how to redeem codes for CRK, or follow the steps below:
1. Open Cookie Run Kingdom on your device.
2. Tap on the Menu icon (The three lines in the upper right corner)
3. Go to Settings.
4. Press Info.
5. Copy My DevPlay name (Press copy. I edited mine out for security reasons)
6. Exit this screen and go back to Menu.
7. Click on Coupons – it will send you to their website.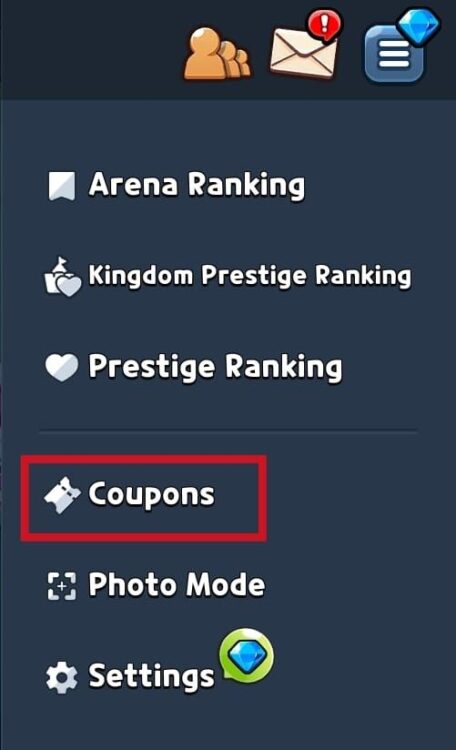 8. Write My DevPlay name and the code (capital letters are important) in the right spot and press Claim Reward.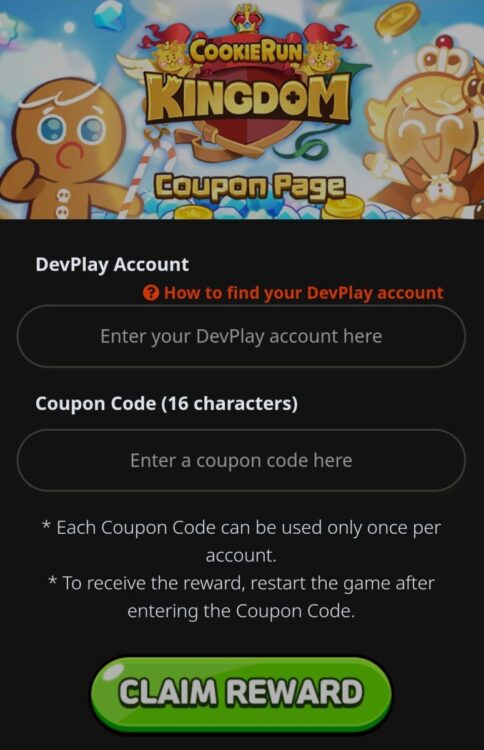 9. Head back to the game and check the mail envelope (Next to Settings in the upper right corner)
10. You'll have all the rewards there, you just need to claim them.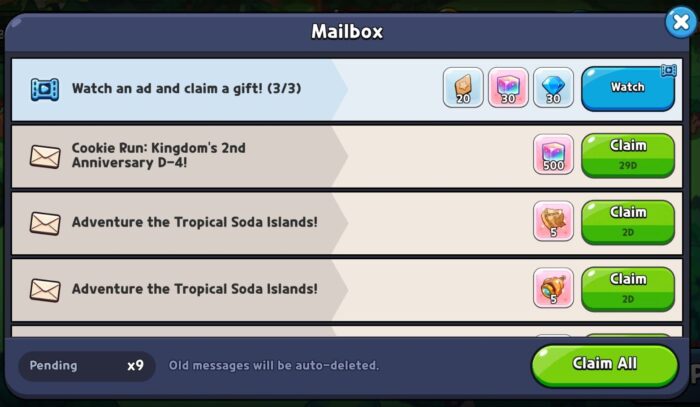 Now that you are all set with all these juicy rewards, you'll enjoy the game a lot more as it will be easier for you to advance in this game. More rewards, more fun. Redeem as many working codes as you can.
How to Get More Codes for Cookie Run: Kingdom (CRK)?
It's easy to get addicted to CRK, so of course anyone would want more working codes for Cookie Run: Kingdom.
One way of getting more free rewards through special codes is to follow our page closely and wait for updates. I update my articles as soon as I get new codes, so everyone can enjoy the game.
Another way is to follow the game on social media like:
YouTube: @CookieRunKingdom
Twitter: @CRKingdomEN
Facebook: @CRKingdomEN
If you subscribe o any of their social media platforms, I'm sure you'll get some codes as soon as they set them free.
Conclusion
Until then I'm here to offer you redeeming codes for Cookie Run: Kingdom the moment they release them. So you can keep playing the game and have fun.
Might want to try different types of games too, for instance, you can check out my article for Super Soldiers Z working codes if you think it's a game you'll enjoy.
If that's not your type of game, I also have this article on Echocalypse working codes, another game you should check out because it's loads of fun. And on top of that, the codes will help you enjoy it even more.
To wrap it up I'll just remind you that you can always bookmark this page to keep up to date with the new Cookie Run Kingdom codes. Or just check back from time to time.