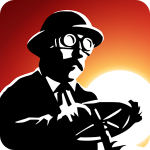 Top of the December releases for Android and Kindle is 80 Days. A cool steampunk game version of Jules Verne's fast-paced adventure story, Around the World in Eighty Days!
Help Phileas Fogg in his quest to win his bet. He must circumnavigate the globe in just 80 days. Travel steampunk style across a 3D world. Using all the possible modes of transport available.
This new Kindle games app expertly merges the original thrilling adventure story. With a beautiful interactive game.
Released on iOS earlier in 2014 for iPhone and iPad. This cool adventure game is now out on Kindle Fire and Android phones and tablets.

Top New Adventure Games for Android and Kindle Fire
By: inkle Ltd.
Release dates: 31 July 2014 (iOS), 15 December 2014 (Android).
Genres: Role Playing, Narrative Driven, Multi-Player, Interactive Story, Real Time Strategy.
80 Days
1872, with a steampunk twist. Phileas Fogg has wagered he can circumnavigate the world in just eighty days…Choose your own route around a 3D globe, travelling by airship, submarine, mechanical camel, steam-train and more, racing other players and a clock that never stops. [Source: Amazon.com]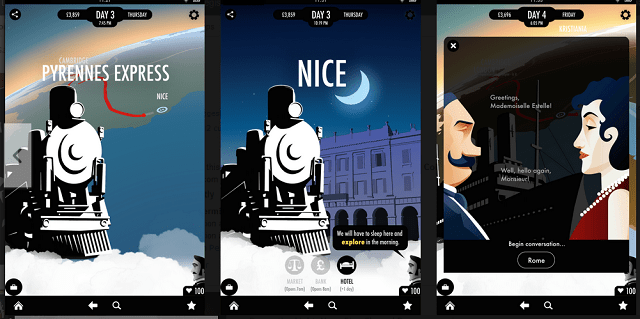 Check out official launch trailer to get a feel for the style and game play:
Download New Kindle Games – 80 Days
From Amazon.com for Kindle Fire.
For a round-up of the best new tablet and phone game apps, visit my latest Mobile posts.
More Top Point-and-Click Games for Mobile
The Sailor's Dream.
Replica – A New Interactive Novel Game.
Enigma: Tiny Spy for iOS & Android.
Her Story – Detective Game App.
Tormentum – A Dark Mystery Adventure.
Botanicula Review.
[jetpack_subscription_form title="Get Blog Post Updates by Email" subscribe_text="Never miss a post – just enter your email address below and you'll get an email every time I publish a new post." subscribe_button="Sign Me Up!"]