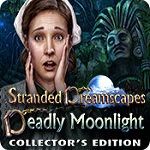 This post is all about the Stranded Dreamscapes games series.
With hidden object puzzle games.
From Friendly Cactus Games.
Listed in order of release.
Available to download on PC and Mac.
Including free demos.

Stranded Dreamscapes Games
From: Friendly Cactus Games.
Publisher: Big Fish Games.
Genres: Mystery, Hidden Object, Puzzle.
Collector's Editions (CE) include extra content, more game play and bonus features.
1. The Prisoner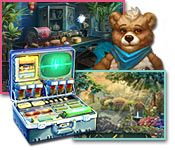 PC release: October 2013.
Plot: Every passing day disengages little Emmy away from reality!
Guide Helen Wheeler as she takes a risky journey inside the mind of her niece to get to the bottom of the problem.
But be cautious! Childhood memories and wondrous fantasies are not the only things you will find here: the Dreamscape is corrupted…
And you are not welcome.
2. The Doppelganger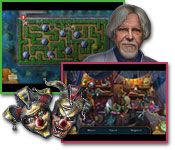 PC release: September 2016.
Plot: You're busy preparing the finishing touches on your wedding dress when you're suddenly whisked away to the world inside your grandfather's mirror!
What's worse, you've got a mirror doppelgänger who's trying to take over your life. Travel through surreal landscapes, conquering each of your deepest fears to restore the portal that will finally take you home.
Can you find a way home and stop her, or will you lose your love forever?
3. Deadly Moonlight
Released: April 2017.
Plot: After the death of their patriarch, the Wolfgrin family suddenly went missing! The police assume it was kidnapping, so you've been called in to investigate. But what you find at the Wolfgrin estate is no mortal criminal. A ghostly presence roams the halls, yearning for justice. Can you uncover who is behind the disappearances and rescue the Wolfgrin family in time?!
4. River of Souls
Release: TBA.
More Top HOPA Games
For more games like Stranded Dreamscapes. You might also like:
Shrouded Tales Games List. Also from Friendly Cactus Games. For PC and Mac.
The Unseen Fears 1: Body Thief CE.
Dark Canvas Games from Vast Studios.
Twisted Lands Trilogy from Alawar.
See also my latest Mystery Adventure Games. News and reviews for PC, Mac, Android, Fire, iPad and iPhone.
And my 10 Best Hidden Object Games Series of all Time! For computer and mobile.
Don't forget, you can Subscribe or Follow and get updates of my latest posts.