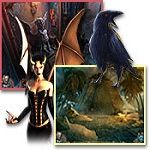 This post includes details of the Sacra Terra games series.
A gothic hidden object mystery series from Alawar and Five-BN.
Including Collector's Editions (CE) for PC and Mac.
With free demos (one available online) and full downloadable versions.
For more Alawar and Five-BN HO series. See my list of posts, included below.
Sacra Terra Games Series
From: Alawar Five-BN Ltd | Genres: Adventure, Mystery, Hidden Object, Puzzle.
1. Sacra Terra: Angelic Night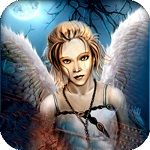 First released: 2011.
Plot: The demons of the Seven Deadly Sins have broken free of their fiery prison and taken up residence in Sacra Terra!
Use your cunning to defeat each demon and rescue humanity from destruction!
As you explore a decaying hospital, unlock the secrets of a medieval abbey, and search eerie catacombs, you'll receive help from a pure spirit known only as Angel.
Survive a harrowing adventure in Sacra Terra: Angelic Nights!
Play Sacra Terra: Angelic Night on PC or Mac DVD from: US Amazon or UK Amazon.
2. Sacra Terra: Kiss of Death
First released: 2013.
Plot: Set out to rescue your fiance from a supernatural force that feeds on human suffering in Sacra Terra: Kiss of Death! As you explore visually stunning mystical dimensions in a bid to reunite other lovers and weaken the grip of the entity, you'll find useful items, solve puzzles and enjoy a richly layered and compelling hidden object experience! Can you save your fiance before the maw of wickedness consumes him?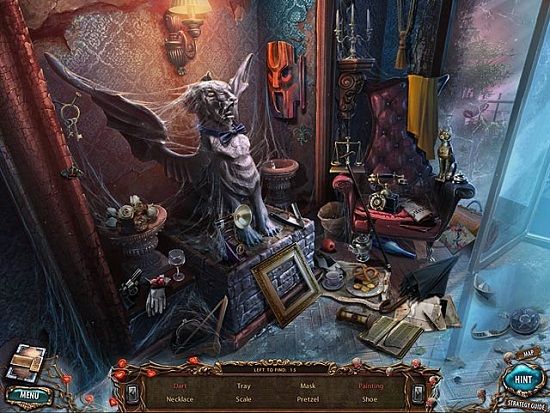 Play Sacra Terra: Kiss of Death for PC or Mac from: US Amazon or UK Amazon.
---
More Top Alawar Five-BN Games Series
For more games series from Alawar Five-BN. For PC, Mac, Android, Fire, iPad, iPhone, Android and Amazon Fire. See also:
New York Mysteries Series from FiveBN.
Darkness and Flame Games and Reviews.
The Legacy Game Series List.
House of 1000 Doors Series from Alawar FiveBN.
And Lost Lands, one of my 10 Best Hidden Object Games Series! For computer and mobile! See also my latest 5-BN Games for PC, Mac, tablet and phone posts. Including series lists, new releases and reviews.
Get Blog Post Updates by Email
Never miss a post – just enter your email address below and you'll get an email every time I publish a new post.
[jetpack_subscription_form show_subscribers_total="false" button_on_newline="false" custom_font_size="16″ custom_border_radius="0″ custom_border_weight="1″ custom_padding="15″ custom_spacing="10″ submit_button_classes="" email_field_classes="" show_only_email_and_button="true"]
Or get the latest post alerts by following on Twitter.