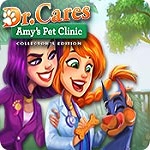 This Dr. Cares games list includes all of the games.
In this time management, vet simulation series.
From Nitreal and GameHouse.
These games are available for PC, Mac, tablet and phone.
For more top management and seek-and-find games from GameHouse, see my list of posts included below.
Dr. Cares Games
From: Nitreal and GameHouse.
Genres: Building, Management, Strategy, Simulation.
Collector's Editions include bonus content, more game play and extra features.
1. Dr. Cares: Pet Rescue 911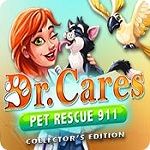 Release: July 2017.
Description: In Dr. Cares Pet Rescue 911 Collector's Edition, you'll get the chance to become a real vet. Take care of adorable animals across 6 fluffy chapters, perform special treatments, and upgrade your clinic!
But who is this Dr. Cares? Let's introduce you! Born to take care of pets and other animals, vet graduate Amy Cares decides to leave her grandfather's vet clinic behind to take a job at a prestigious clinic in New York. It seems like a great place to help animals and really make a difference, but can she stay true to what she believes and resist the many distractions the big city has to offer?
Play Dr. Cares 1: Pet Rescue 911
Available from Amazon for: Fire Tablet (US) or Fire Tablet (UK).
2. Dr. Cares: Amy's Pet Clinic
Release: May 2018.
Description: Amy has taken over her grandfather's veterinary practice. However, her grandfather's left some big shoes to fill, and Amy quickly finds out that running her own clinic is harder than she thought. If she's going to save the animals, she's going to need some help – and that's where YOU come in!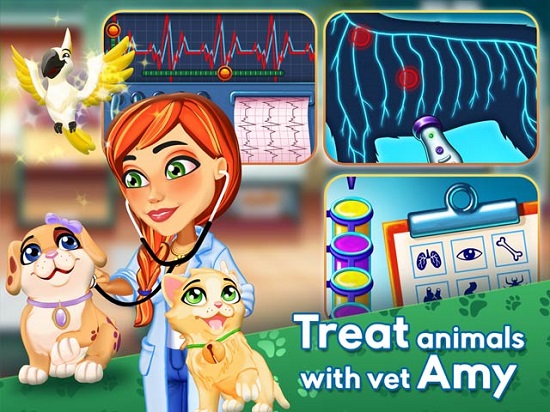 Play Dr. Cares 2: Amy's Pet Clinic
Available from Amazon for: Fire Tablet (US) or Fire Tablet (UK).
Play Dr. Cares 3: Family Practice
Release: December 2018.
Plot: Amy's mom is back in town, and Amy has to choose between Jack and the vet clinic, or her mom! How this story ends is entirely up to you… Show off your skills as an animal doctor in Dr. Cares latest adventure! This time, there's more than just puppies and kitties that need your help, as you turn your attention to ponies, and even dolphins, along with an assortment of wild animals around Snuggford.
Play Dr. Cares
Available from Amazon for: Fire Tablet (US) or Fire Tablet (UK).
More from GameHouse
Play GameHouse Game Apps on Fire Tablet:
US Amazon or UK Amazon
Free Demos and Full Version Downloads Available!
More top games from GameHouse, you might also like:
Campfire Legends Games.
Parker and Lane: Criminal Justice Detective Game.
Mortimer Beckett Games List.
Emily's Delicious Games Series.
Sally's Games Free Demo and Full Version Download for PC, Mac, Fire.
And also check out my Best Time Management Games 2017 for PC and Mac.
If you are looking for a good tablet to play these time management sim games on. Check out my Fire 7 Tablet Review, the Best Tablet Under $50/£50!
Don't forget, you can Subscribe or Follow and get updates of my latest posts.