Top new game, My Brother Rabbit by Artifex Mundi.
A gorgeous surreal point-and-click adventure.
Available for PC, Mac and Amazon Fire.
For more top puzzle-solving adventure games by Artifex, see my list of posts below.
Plus my all-time top mystery adventure games list.
Top New Adventure Game from Artifex Mundi
Title: My Brother Rabbit Collector's Edition.
From: Artifex Mundi.
Genres: Adventure, Surreal, Puzzle, Hidden Object, Kid- Friendly, Point-and-Click.
Collector's Edition release: April 2019. This includes bonus content, more game play and extra features.
My Brother Rabbit
Plot: My Brother Rabbit is a beautifully drawn adventure set in a surreal world that mixes reality with a child's imagination. A young girl faces a terrible reality when she falls ill. The little girl and her brother use the power of imagination to escape the hostile outside world. Together they envision a fantastic universe that provides the play and comfort they need. In this magnificent land of make-believe, a little rabbit wants to nurse his ill friend the flower back to health in any way he can. [Source: Amazon]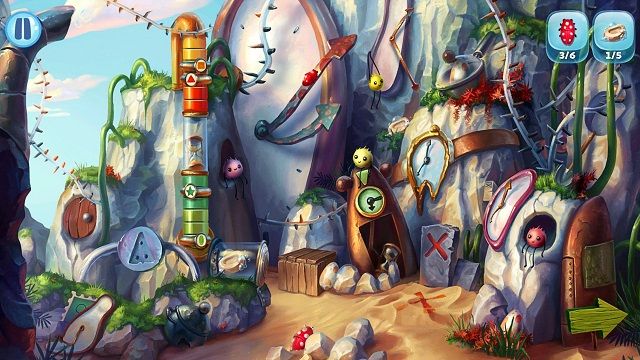 Game Play and Features
An adventure set in a surreal world that mixes reality with a child's imagination.
On this journey, the rabbit must use his wits to decipher puzzles inspired by classic point-and-clicks to continue his adventure.
Help the rabbit play minigames, find hidden objects, and assemble strange machinery in a world where conventional logic doesn't apply.
Join this colorful quest through five wondrous lands filled with robo-moose, levitating baobabs, giant mushrooms, melting clocks, and more unbelievable things!
Tons of environmental puzzles, minigames and hidden objects.
Help siblings on their journey through worlds of imagination.
Fantastic graphics mixing real, surreal and abstract.
Music by renowned composer.
Review
My Brother Rabbit is a charming fantasy tale. Illustrated beautifully with it's visuals, characters, storyline and puzzle-solving game play. And a refreshing departure from the usual hidden object/point-and-click gameplay.
Reminiscent of games like Tiny Bang Story and Machinarium. This game will challenge you to think outside the box. Apart from being a bit on the short side, for a Collector's Edition price. I think that if you enjoy visual puzzle solving, gorgeous visuals, whimsical characters and a gentle but poignant atmospheric game, you'll want to at least check out the demo (see the links below).
Play My Brother Rabbit
Available on Amazon for: Fire Tablet (US) or Fire Tablet (UK).
This game is one of my 10 Best Hidden Object Games 2019 for PC and Mac.
Top 10 Fire Games
For my Amazon Fire top 10 games lists. You might like:
Best Hidden Object Games for Amazon Fire.
Top Free Role-Playing Games on Fire.
Top New Games for Amazon Fire 2018.
Best Kindle Fire Apps for Kids and Toddlers.
10 Best Games for Fire 2019 June Round-Up.
See also my Best Hidden Object Games of All Time! With my all-time top picks for computer and mobile!
And also my latest Artifex Mundi Games posts. Including series lists, new releases and reviews.
For more details of the new Fire 7 tablet, check out: US Amazon or UK Amazon.
Don't forget you can Subscribe or Follow to keep up to date with my latest posts.