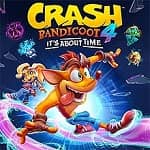 New out Crash Bandicoot 4: It's About Time, sequel to Crash Bandicoot: Warped.
This new chapter in the popular platform game series is developed by Toys for Bob.
Crash Bandicoot, Coco and the gang must recover the all-powerful Quantum Masks to stop Doctor Neo Cortex and Doctor Nefarious Tropy from taking over the multiverse!
For more Crash games and more top platformers for Switch, Xbox One, PC and PS4, see my posts below.
Crash Bandicoot 4
Developer: Toys for Bob | Publisher: Activision | Released: October 2020 | Genres: Platform, Adventure, Action, Strategy, Funny!
It's About Time
Plot: It's about time for a brand-wumping new Crash Bandicoot game! Crash four Ward into a time shattered adventure with your favorite marsupial. [Source: Amazon]
Game Play and Features
Neo Cortex and N. Tropy are back at it again and launching an all-out assault on not just this universe, but the entire multiverse!
Crash and Coco are here to save the day by reuniting the four quantum masks and bending the rules of reality.
New abilities? Check. More playable characters? Yep. Alternate dimensions? Obviously!
Ridonkulous bosses? For sure. Same awesome sauce? You bet your sweet jorts. Wait, are they actually jorts? Not in this universe!
Review
Coming Soon!
Crash Bandicoot 4: It's About Time on Amazon
Available for PlayStation 4 and Xbox One on: US Amazon or UK Amazon – physical copy or download version.
More Crash Bandicoot Games
Crash NSane Trilogy for Switch, Xbox One, PC and PS4.
CTR: Nitro-Fueled for Switch, PS4, Xbox One.
More Top Platform Games
Yooka-Laylee: The Impossible Lair for Switch, Xbox, PS4.
TowerFall – 2D Platformer for Switch.
The Swindle – Cyber Crime Platformer for Switch.
GRIS – Platform Game for Nintendo Switch.
Candle: The Power of the Flame for Switch and PS4.
Bomb Chicken by Nitrome for Switch.
Yoku's Island Express for PS4, Switch, Xbox.
You might also like: List of Spyro Games in Order for PlayStation and Nintendo Switch.
Don't forget you can Subscribe or Follow to keep up to date with my latest posts.