There are plenty of One Piece Tower Defense working codes, and I am here to share them all with you. They will reward you with plenty of gems that you can use to buy lots of in-game items and have, overall, more fun playing the game.
I am doing my best to keep this list up to date with the latest codes (and to remove the ones that no longer work), but if you manage to find a code that works and it's not on my list below, please share it in the comments section below so I can add it to the list.
With these in mind, let's not waste a single second, and instead let's check out ALL the One Piece Tower Defense codes still working today (also shared in the group).
IMPORTANT: These codes are for the game [Katakuri] One Piece Tower Defense, the original. There are others with different emojis and slightly different names available on Roblox, but they're not the same!
One Piece Tower Defense Codes [Working]
Make sure to claim these as soon as possible, as they might stop working sooner rather than later. Also, use the same capitalization and spelling, otherwise, they won't work!
BlamSpot – 300 Gems
SennaGames – 300 Gems
AdminBug – 500 Gems
Useless?… – 500 Gems
SorryForData – Gems
KingLuffy_YTsub2me – 500 Gems
THANKSFOR2MVISITS – 3,000 Gems
tysmfor1MilVisits! – 750 Gems
tysmfor5kFavs! – 500 Gems
tysmfor2kLikes! – 500 Gems
IfritUpdate – 5,000 Gems
QueensAttack – 3,000 Gems
SoulKingShines! – 20,000 Credits
SorryForTheDelay! – 10,000 Credits
StringString! – 3,000 Gems
MarcoHasLanded – 5,000 Gems
SaboIsAnL – 7,000 Gems
If you're into One Piece-inspired games, make sure to also check my previous article listing all the Roblox: A One Piece Game islands in order.
One Piece Tower Defense Codes [Group Codes]
These are some group codes (read to the end for a link to the group) that are still active as of today:
GroupCode! – Redeem code for 200 Gems
tysmfor10kMembers – Redeem for 500 Gems
tysmfor25kMembers – Redeem for 500 Gems
tysmfor30kMembers – Redeem for 1,000 Gems
If you enjoy getting free stuff in your games, make sure to check my previous article where I've shared a bunch of redeem codes too: Summoners War Chronicles Redeem Codes or Ultimate Wars: Awaken codes.
How to redeem these codes in Roblox One Piece Tower Defense?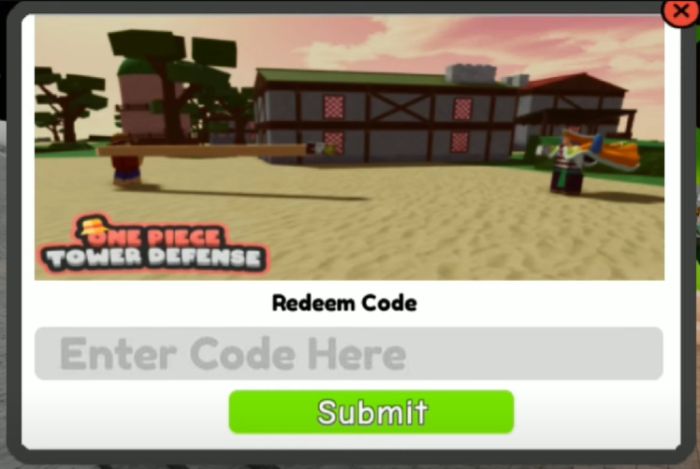 Getting the rewards for these codes is as easy as it gets. All you have to do is launch the game and click the "Codes" button in the left sidebar.
Then simply copy each and every one of the codes above (make sure to use the exact spelling, punctuation and capitalization) and click the "Submit" button. You will get the rewards instantly!
How to get more Katakuri One Piece Tower Defense Codes?
The easiest way to make sure that you are up to date with the latest redeem codes for Roblox One Piece Tower Defense is to visit this page regularly. I am constantly checking out all the channels and I will update the article as soon as I find new ones.
But if you prefer to do this yourself, you should keep an eye on the social platforms where the game is present, as codes will usually be shared there by the game's developer. The main page of the game is also a good potential source for getting new redeem codes.
Here they are, make sure to follow them all:
Finally, I have to say it again: if the codes don't seem to work, make sure that you have copied them right – exactly as seen in my list above.
And this would be all for today. If you find additional codes that work, share them below (and also let us know what the reward is).