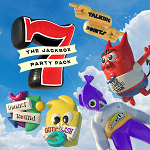 Now out, a new Jackbox Party Pack 7!
A collection of 5 new family friendly party games to play on your tablet, phones, Fire TV, Nintendo Switch, PC and Mac.
For the full Jackbox party games list plus more family party and board games, see my list of posts below.
Jackbox Party Pack 7
From: Jackbox Games | Genres: Multi-Player, Family Friendly, Party Games, Word, Board, Funny, Team-Based, Trivia.
Description: JPP7 includes 5 new games: the hit threequel Quiplash 3, the collaborative chaos of The Devils and the Details, the fierce drawing game Champ'd Up, the speech game Talking Points and the guessing game Blather 'Round. Use phones or tablets as controllers and play with up to 8 players, and an audience of 10,000! [Source: Amazon]
Quiplash 3
The say-anything threequel Quiplash 3 (3-8 players). It's a head-to-head battle of the wits as you give hilarious responses to quirky prompts while everyone else votes for their favorite!
The Devils and the Details
The collaborative chaos game The Devils and the Details (3-8 players). You're a family of devils working together to survive in suburbia. Can you handle the daily torture of human life?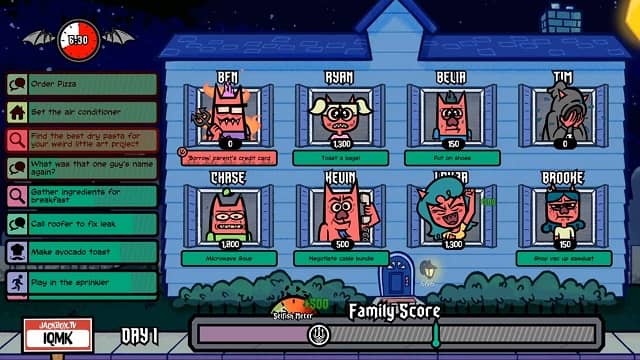 Champ'd Up
The drawing fighting game Champ'd Up (3-8 players). Create absurd characters that will battle over unusual titles. Can you take down the heavy favorite?
Talking Points
The on-the-spot public-speaking game Talking Points (3-8 players). Give a speech responding to picture slides you've never seen before or be the Assistant and approve pictures as fast as you can. Just keep talking whether it makes sense or not.
Blather Round
The pop culture guessing game Blather Round (2-6 players). Describe your secret prompt with a very limited vocabulary and hope that someone can figure it out in time. It's a "GOOD" "FUN TIME" "EXPERIENCE."
Play Jackbox Party Pack 7
Available to download and play from Amazon for Nintendo Switch (US), Amazon Fire (US) and Amazon Fire (UK).
Play using phones, tablets or computers. No extra controllers needed! The game is local multiplayer but can be enjoyed over streams with remote players.
Also available for PC and Mac from Steam and on Appstores for Windows, Android and Mac.
More Jackbox Family Party Games for Switch, Fire TV and Consoles
Jackbox Party Games for TV and Consoles.
Drawful 2, Family Party Game for Switch.
More Board Games for Nintendo Switch
For more family board games to play on Nintendo Switch. Including Hasbro games with local and online multi-player modes. Check out my previous posts:
Hasbros 3D MONOPOLY for Nintendo Switch.
Hasbros Clue / Cluedo Board Game for Nintendo Switch.
Risk, Trivial Pursuit and Jeopardy Game Downloads for Switch.
Hasbros Battleship for Nintendo Switch.
Don't forget you can Subscribe or Follow to keep up to date with my latest posts.