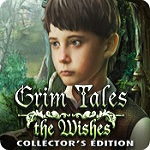 Details and review of Grim Tales 3: The Wishes.
Continuing my weekly series revisiting classic hidden object games!
With the 3rd installment in the Grim Tales series.
From Elephant Games and Big Fish.
Available to play on computer for PC and Mac.
For the full Grim Tales series order so far. See my post included below.

Grim Tales The Wishes Review
Details and review of Grim Tales 3: The Wishes game.
Available to download for computer on PC and Mac. With free demos.
Grim Tales: The Wishes Collector's Edition
From: Elephant Games.
Genres: Detective, Mystery, Hidden Object, Puzzle.
PC release: July 2012.
Plot: Be careful what you wish for… When her young son begins to wither and age before her eyes, your sister desperately requests your help. You arrive to discover that a deadly bargain has been made. You must set things right before your nephew pays the terrible price in Grim Tales: The Wishes!
Grim Tales: The Wishes Features
Grim Tales The Wishes game includes:
A puzzle adventure game with interactive hidden object games (iHOGs) and puzzles.
Continues the family story of the previous Grim Tales games.
Though this game starts in what seems like a modern family home. You soon find yourself exploring huge secret passages, swamps, forests and other eerie and magical locations.
With curses, wishes coming true, witches, demons and other supernatural occurrences!
A helpful puppet is your guide through this Grim Tales game.
And you have an interactive map. Which you can use to teleport to unlocked areas. And view the objectives yet to be completed for each location.
Play in 3 modes: Casual, Advanced and Hardcore. With a hints system that charges at a certain rate depending on which mode you are playing in. You can get a hint once it has charged up fully. By clicking on the fully blossomed red flower in the bottom left-hand corner of your screen.
Collector's Edition includes a bonus chapter, wallpapers, and additional gameplay.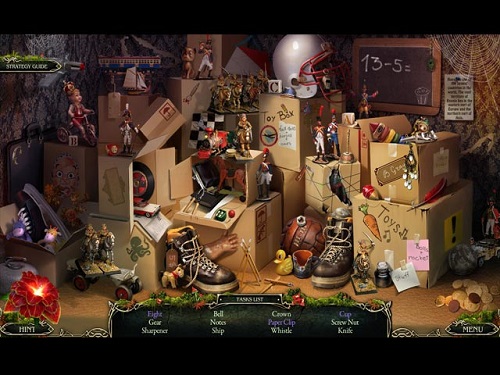 Grim Tales The Wishes CE Review
Pros: Grim Tales The Wishes continues to provide an enjoyable HO adventure, as the previous 2 episodes. With the next installment in your sister's story. This time helping her to save her son from an evil presence! There are plenty of challenging puzzles and mini-games throughout. And interactive HO scenes to play. The story begins is a seemingly normal neighborhood. But quickly moves to unusual and fairy-tale like locations. From swamps and forests to huge secret underground passages. All depicted with gorgeous and colorful artwork. The music and sound effects add to the atmosphere and suspense. And even if you play in casual mode, you get hours of gameplay.
Cons: I personally found the voice-over acting a little clumsy. And sometimes the dialog in the cut-scenes, especially with the nephew, Brandon. Were a little off-putting when the visuals didn't play in sync with the voice-over. I also found the puppet's voice a bit grating!
Overall: Apart from the minor issues with the voice-overs! I found Grim Tales The Wishes a fun and challenging game. With all the high quality of visual, sound, game play variety, story line and length. That you would expect from a great hidden object puzzle adventure game!
Play Grim Tales 3: The Wishes
Grim Tales 3 & 4 on PC DVD from US Amazon and UK Amazon.
This is the 3rd installment in the series. See my post: Grim Tales Game Series List. For all the game titles and reviews in the series so far. For computer and mobile, in order of PC release. Reviews of the next installments in this HO series coming soon!
More Top Hidden Object Games
For more top hidden object games on BigFish. For PC, Mac, Android, iPad and iPhone. You might like:
Awakening Game Series Order.
Hidden Expedition Games List.
Shadow Wolf Mysteries Series.
See also 10 Top Free Full Version BigFish Games for PC. With free hidden object, time management and simulation games.
For new games: Mystery Adventure Games. News and reviews for PC, Mac, iPad and iPhone.
And my 10 Best Hidden Object Games Series of all Time! For computer and mobile.
Don't forget, you can Subscribe or Follow and get updates of my latest posts.