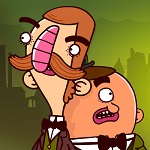 Bertram Fiddle Episode 1: A Dreadly Business.
A quirky point-and-click crime-solving game.
Available for iPhone and iPad.
For more top detective games for mobiles. See my list of posts included below.
August 2017 Update: Part 2 now out. For details, see below.

Bertram Fiddle Detective Games
From: Rumpus Animation | Genres: Detective, Puzzle, Adventure, Point & Click.
1. A Dreadly Business
Released: December 2014.
Plot: In a quirky take on a Victorian London inhabited by strange characters. With even stranger noses! Self-proclaimed leading explorator, Bertram Fiddle, finds himself in a bit of pickle. Help him follow the clues and track down the elusive serial killer. Known only as Geoff the Murderer before he strikes again.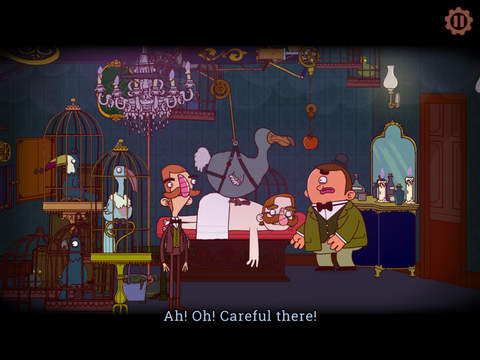 Episode 1 – Features
Intrigue, murder, mystery and terrible PUNS!
With hilarious point-and-click game play.
Beautifully animated interactions.
Over 30 locations to explore.
An original soundtrack. Composed by Cam Reynolds. Inspired by 1970s B movies.
Unique voice acting.
Riveting action sequences.
HD art.
2. A Bleaker Predicklement
Released: August 2017.
Plot: The year is 1884 and Victorian London is ready for the greatest Adventure ever told. Can you solve the puzzles and help Bertram Fiddle finally track down the despicable Geoff the Murderer? Explore dark alleys, talk to suspicious characters, uncover the evil plot that threatens Victorian London in this comedy murder mystery like no other.
More Detective Games for Computer and Mobile
For more point-and-click detective games:
Agatha Christie Adventure Games List. For computer and consoles.
Sherlock Holmes Games List. For computer and consoles.
Nancy Drew Download Games List. For PC and Mac.
Blackwell Mystery Adventure Series. For computer and mobiles.
Layton's Mystery Journey for iPad and iPhone.
See also my latest Detective Games for PC, Mac, Android, iPad and iPhone. Including series lists, new releases and reviews.