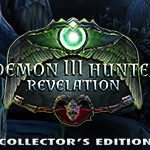 This Demon Hunter games series list.
Includes all of the games in this series, so far.
For mobile, PC and Mac, with free demos.
July 2016 Update: Demon Hunter 2 new out for iOS.
November 2018 Update: Demon Hunter 5 new out for computer. See below for details.
Demon Hunter Games Series
From: Brave Giant Ltd and Artifex Mundi.
Genres: Detective Games, Mystery, Hidden Object, Puzzle.
1. Demon Hunter: Chronicles from Beyond – The Untold Story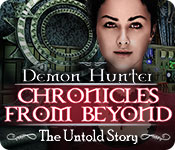 PC release: December 2014.
Plot: The late Professor Ashmore was as brilliant as he was kind.
After taking you in as a child, the professor raised you as his own on Iowa Island.
Having been away from the Island for years, you find that you've been overwhelmed by an ominous feeling that the professor is dead.
The newspaper confirms this uneasy feeling, but no one has been able to determine how it happened.
It's up to you to return to the island and find who's responsible for this terrible crime.
2. Demon Hunter: A New Chapter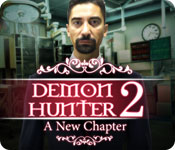 release: August 2015.
Plot: Twenty years ago, in a frightening battle you stopped Ragnar from descending upon your world, but everyone knows no peace lasts forever.
Now, it's a matter of time until the evil will be stirring again.
Wander into the unknown in search of the information that threatens to shake your reputation and your very existence.
One phone call will send you on a journey that will not leave you unscathed.
Play Demon Hunter 2: A New Chapter Amazon US for: PC Download.
And Amazon UK for: PC Download.
3. Demon Hunter: Revelation
release: April 2016.
Plot: There have been no signs of demonic activity since Ragnar's defeat five years ago. Now you've been called in to help Officer Arthur Brown with his newest case. A woman's been murdered, and her daughter's missing. Is this your typical murder case, or is there something more sinister to blame? Follow in the path of the supernatural to find the killer and uncover your own origins in this spine-chilling adventure!
4. Demon Hunter: Riddles of Light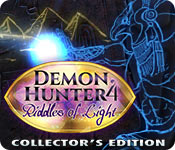 release: February 2018.
Plot: As a promising young demon hunter, you are prepared to take on adversaries from the underworld…
But when an ancient Egyptian artifact shows up on your doorstep heralding the return of Seth, a demon scourge as old as evil itself, you find yourself facing the most dangerous challenge imaginable.
The encroaching darkness threatens to swallow all light spanning time itself!
Can a mere mortal really hope to contend with such power?
5. Demon Hunter: Ascendance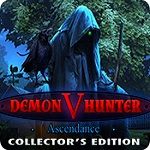 Released: November 2018.
Plot: When Hector, Demon Hunter for hire, agreed to save a lost tourist from the haunted Museum of Mysticism and Monstrosity.
He never imagined that it could all be a clever hoax staged just for him.
Hector will need all his cleverness and intuition to find the truth in this double mystery.
Are demons real or was it all about the money? Find out by playing Demon Hunter V: Ascendance!
More Artifex Mundi Games
For more top games from Artifex Mundi. For PC, Mac, PS4, and phone. Check out:
Eventide Games Series by House of Fables.
Enigmatis Game Series by Artifex Mundi.
Grim Legends Games by Artifex Mundi.
Lost Grimoires Games by World Loom.
9 Clues Detective Games by Tap It.
The Secret Order Games by Sunward.
See also my latest Artifex Mundi Games posts. Including series lists, new releases and reviews for PC, Mac, and phone.
Don't forget, you can Subscribe or Follow and get updates of my latest posts.