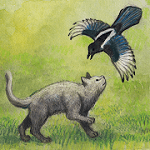 Milo and the Magpies from Second Maze, new out on appstores for Android and iOS. A cute hand-drawn cat adventure with point-and-click, story-rich and hidden object game play!
Also available on Steam for PC and Mac.
For more top atmospheric adventure games for phone and tablet, see my posts listed below.
Milo and the Magpies
From: Second Maze | Appstore Release: January 2021 | Genres: Adventure, Point & Click, Puzzles, Exploration, Hidden Object, Hand-drawn, Story Rich.
Atmospheric Point-and-Click Adventure
Description: Milo, a curious and adventurous cat, needs to find his way home after an encounter with some pesky magpies. Help Milo sneak through the gardens of his neighbours by exploring and solving the various puzzles you come across. Can you outsmart the pestering magpies and guide Milo back home? [Source: Google Play]
Game Play and Features
Milo and the Magpies is an atmospheric point-and-click adventure game created by artist Johan Scherft, who beautifully hand-painted and animated all backgrounds and characters.
Relaxing yet stimulating game-play.
Get Milo across 9 unique gardens by interacting with the environment and solving small point and click / hidden-object puzzles.
Captivating artistic atmosphere.
Each hand-painted garden Milo has to sneak through has its own unique personality, style and collection of fun characters for you to meet and interact with.
Atmospheric soundtrack: Each garden has its own theme song composed by Victor Butzelaar.
Available on app stores for Android and iOS. Also on Steam to download for PC and Mac.

More Top Atmospheric Story-Rich Adventure Games for Mobile
The Room Game Series from Fireproof Games.
Syberia Game Series for Mobile, Computer and Console.
Cube Escape and Rusty Lake Games in Play Order.
Check out my latest Adventure Games for Tablet and Phone.
And my check out my Game Series Lists Index for an A to Z of all the lists I've posted on this blog so far!
Get Blog Post Updates by Email
Never miss a post – just enter your email address below and you'll get an email every time I publish a new post.
[jetpack_subscription_form subscribe_placeholder="Enter your email address" show_subscribers_total="false" button_on_newline="false" submit_button_text="Sign Up" custom_font_size="16px" custom_border_radius="0″ custom_border_weight="1″ custom_padding="15″ custom_spacing="10″ submit_button_classes="" email_field_classes="" show_only_email_and_button="true"]
And don't forget you can also get alerts of my latest posts by following on Twitter 🙂
*The above article may contain affiliate links.