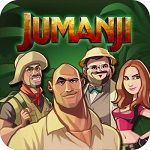 New out last week, Jumanji.
A mobile version of the board game, from the Jumanji movie.
Available for free on iTunes.
For iPad and iPhone.
More new iOS board game apps, also included below.
New iOS Board Game
Title: JUMANJI: THE MOBILE GAME.
From: NHN Entertainment Corp.
Genres: Board, Adventure, Card, Strategy, Multi-Player.
iOS release: December 2017.
JUMANJI: THE MOBILE GAME
Plot: Trapped within the Jumanji game, only you will be able to conquer the different regions of Jumanji. And unite them to defeat the ancient curse! Curse? What curse?
Game Play and Features
Play as one of 4 characters: Dr. Bravestone, Prof. Oberon, Ruby Roundhouse, or Moose Finbar.
Pick your favorite character. Fill your deck with unique skill cards. And start your journey to save all of Jumanji! And defeat other players!
Compete in live PvP against real players vying for control over key areas of the jungle!
Discover new allies in the hired mercenaries scraping out a living in this dangerous world.
Roll the dice, and see if you have what it takes to rule Jumanji!
Progress through the adventure. From the deep swamp flooded with cursed snakes and alligators. To canyons filled with stampeding rhinos.
Construct and design your own deck to bring to each encounter. Each Skill Card opens dozens of new strategies and ways to defeat your opponent.
Each round plays very quickly. So you'll need to use your wits and your speed. To beat what the game has in store for you.
Discover, collect, and customize. With over 40 different cards with thousands of deck combinations. Each deck has their own upgradable abilities, so choose wisely!
Play with friends. Join a Clan to stay connected with friends and rivals. Share cards and strategies.
You can also get the table top version of this board game from US Amazon or UK Amazon.
More New Board Games for Mobile
Bohnanza: The Duel Card Game for iOS.
Through the Ages Board Game for iOS.
7 Wonders Card Game for iPad.
Cottage Garden Board Game iOS.
Mysterium: A Psychic Clue Game.
And also checkout my latest Board Game News and Reviews posts.
Don't forget, you can Subscribe or Follow and get updates of my latest posts.