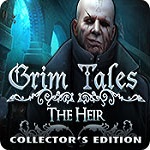 This Grim Tales 10 The Heir game review.
Completes my weekly look at the popular HOG series by Elephant Games.
As this is the latest game in the Grim Tales family adventure.
For the full series list so far, check out the link included below.
For details all the Grim Tales currently available for mobile and computer.

Update August 2016: The Heir is now also available on iPad and iPhone. See below for details.

Grim Tales 10 The Heir Review
Details and review of the 10th Grim Tales game, The Heir.
Grim Tales: The Heir Collector's Edition
From: Elephant Games.
Genres: Detective Games, Mystery, Hidden Object, Puzzle.
PC release: February 2016.
iOS Release: August 2016.
Plot: You've been called to the Gray's Castle to help your nephew Brandon. His son is missing, and his wife's fallen into a mysterious coma! It's up to you to discover what dark forces are at play in your family's castle. The past and present collide as you look for answers. Do you have what it takes to change the outcome of the future before it's too late? Solve puzzles and find hidden objects to help you along the way.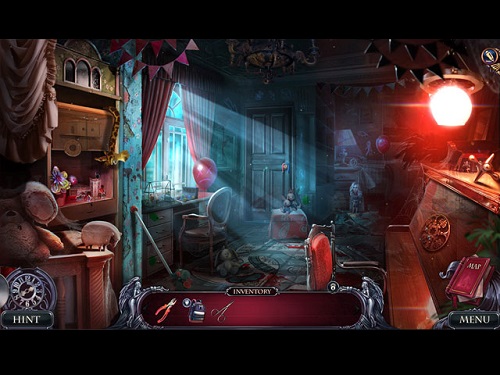 Grim Tales 10 The Heir CE – Game Play & Features
A new adventure at Gray castle.
Help Brandon save his wife and son. Only you can help him, with your unique ability to use personal items to see into the past.
With 7 chapters: Main Floor, Second Floor, Future, Dungeon, Labyrinth, Office and Maid's Room. Plus a bonus section in the Collector's Edition.
Play in 4 game modes: Casual, Advanced, Hardcore and Custom. Select how much help/hints/skips you want to play with.
Game play includes puzzles and mini-games. Plus iHOGs of various types such as text lists, silhouette lists or finding matching pairs.
Interactive map: which gives an overview of actions to do in each location. You can also use the map to travel to available areas with one click.
The Collector's Edition (CE) includes: a bonus section, Strategy Guide, achievements, morphing objects, wallpapers and collectibles!
Grim Tales 10 The Heir CE – Review
The Grim Tales epic adventure continues! With another visit to Gray castle. The location of many of the games in the series (starting with the first game, The Bride). This time you're needed to help your nephew rescue his family from an evil presence.
Though you don't need to play previous Grim Tales to enjoy this game. If you have, you'll notice there are many neat references to previous storylines and characters.
This Grim Tales is a suspenseful and atmospheric game. With plenty of plot twists to keep you hooked. The eerie soundtrack, excellent voice-overs and realistically spooky sound effects. All help to create the right ambiance for this scary mystery game.
The game play, as in previous episodes is mainly puzzle solving. With most of them medium to easy difficulty. And a few that were more complex, involving multi-step puzzle-solving to complete them. The mini-games and interactive hidden object games are also very good. And there was plenty to do both in the main (standard version) game. And with the extra game play in the Collector's Edition.
Grim Tales: The Heir not only has all the elements that you'd want in a HOPA game. But they've been done really well. With an intriguing story, a good range of games to play, plenty of game play and a spooky atmosphere!
More Top Hidden Object Games
For all the game titles in the series so far. Including reviews, see my post: Grim Tales Game Series List.
You might also like to check out my Popular Games Series A to Z page. Which includes more top HOG, management and point-and-click games series. For computer and mobile.
For new games: Mystery Adventure Games. News and reviews for PC, Mac, iPad and iPhone.
And also check out my 10 Best Hidden Object Games Series of all Time! For computer and mobile.
Don't forget, you can Subscribe or Follow and get updates of my latest posts.