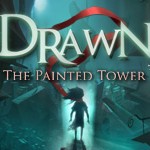 The Painted Tower is the first chapter of the Drawn game series. An artistic combination of adventure point-and-click game play with hidden object games and puzzles. This is a dark magical fairytale that draws you into a mythical surreal world, with the beautiful artwork, atmospheric background music, challenging puzzles to solve and a quest to save a young girl from the painted tower.
Even though this is a mix of different game genres, the game play is seamless and is an enchanting and appealing game to play. Available to play on computer and mobile.
Drawn: The Painted Tower
Release Date: Sep. 5, 2009 | Genre(s): Hidden Object, Adventure, Puzzle | From: Focus Multimedia Ltd.
The Painted Tower – Game Summary
This adventure begins as a curse brings darkness over the Kingdom. Their only hope is a young girl called Iris, who has the magical power to restore light again. Your aim is to uncover the secrets of the Painted Tower while overcoming challenging puzzles on your quest to save Iris. The curse has locked each floor of the tower, and only the most imaginative adventurer can find a way through. Enter colorful luxuriant painted worlds created by her imagination. And enlist the help of the fantastic creatures that you meet on your adventure. You must unlock the secrets to save the young Iris, before it is too late!
How to Play Drawn: The Painted Tower
This adventure game has an interesting storyline, challenging puzzles and stunning scenery. You move through this game, solving puzzles or collecting objects on your quest to unlock each chamber in the painted tower. As you try to get ever nearer to your ultimate goal of rescuing Iris. Within this tower the interior is decorated with many of Iris' paintings, which come at you in a burst of color against the gloom of the tower. This is where the beautiful artwork really comes into its own, as you can step into these pictures and explore these wonderful painted fantasy lands, interact with the colorful creatures that Iris has drawn into the pictures, discover more hidden objects and ask for assistance from the inhabitants.
Also along the way, you will find torn bits of illustrated paper and other objects to collect and keep in your inventory for later use. Plus logic puzzles that you will have to solve to move you along in the challenge. But if you do get stuck there is a very handy hints system, which will recharge for a few minutes after each use.
The Painted Tower – Review
The Painted Tower is an imaginative and compelling adventure game from the intriguing story, atmospheric music and stunning visuals to the gaming itself with unique hidden object games, solid logic puzzles and mini-games. This magical world draws you in, compelling you through this enjoyable dark adventure!
Play Drawn 1: The Painted Tower
Available from:
Amazon US for: Drawn 1 & 2 PC Bundle.
Amazon UK for: Drawn 1 & 2 PC Bundle.
For more top hidden object games you might also like: Death on the Nile – PC Game Review.
Drawn: The Painted Tower is number 10 in my all-time best mystery games list! See also my post: Top 10 Mystery Adventure Games List for mobile and computer.
See also my latest Mystery Hidden Object Games News. For PC, Mac, tablet and phone.
And my 10 Best Hidden Object Games Series of all Time! For computer and mobile.
Don't forget, you can Subscribe or Follow and get updates of my latest posts.