If you want to get a head start in the highly popular Dude Theft Wars game, I've got plenty of cheats available for you. These will give you all sorts of in-game items, including boosts and changes to the character and environment.
And, of course, these cheats will help you make more money in Dude Theft Wars. Because that's all that matters in the end.
And before we head straight into today's cheats for the game, don't forget to also check out the Roblox: A Bizzare Journey codes and the Roblox Anime Star Simulation codes.
ALL Dude Theft Wars Cheat Codes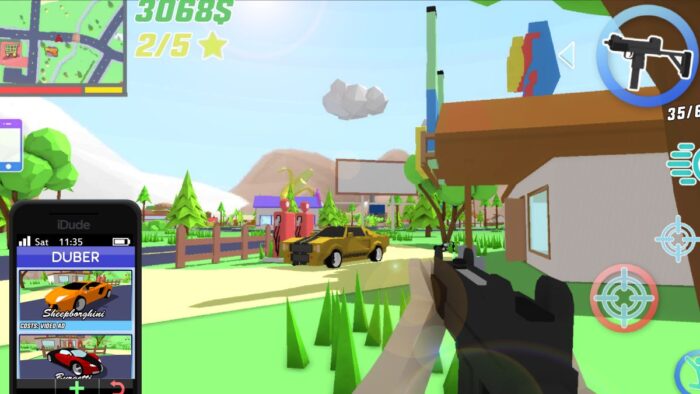 In order to use the cheats listed below, open your in-game phone and select the "Cheats.exe" app and type the codes exactly as seen below (with the same Capitalization):
alieninvasion – Adds alien NPCs
antdude – Makes you much smaller in size
bankrob – Spawns a bag of cash
chadaxe – Spawns a giant axe
crowd (1-99) – Increases the number of people in your vicinity based on the number you write after the word
day – Changes the time to morning
dudebolt – Makes you run faster
dudekong – Makes you a giant
evening – Changes the time to evening
giantdudes – Makes dudes around you much larger
heytaxi – Summons nearby cars
heypopo – Spawns a policeman that starts chasing you
makemerich – Spawns fake cash
makebirch – Adds a birch tree
makebuilding – Spawns an apartment building in front of you
makebush – Adds a bush
makefence – Spawns a fence
makeflowers – Spawns yellow flowers
makegrass – Adds grass
makehouse – Spawns a house in front of you
makelamp – Spawns a street lamp
makeorangetree – Spawns an orange tree
makeparkhouse – Spawns a gazebo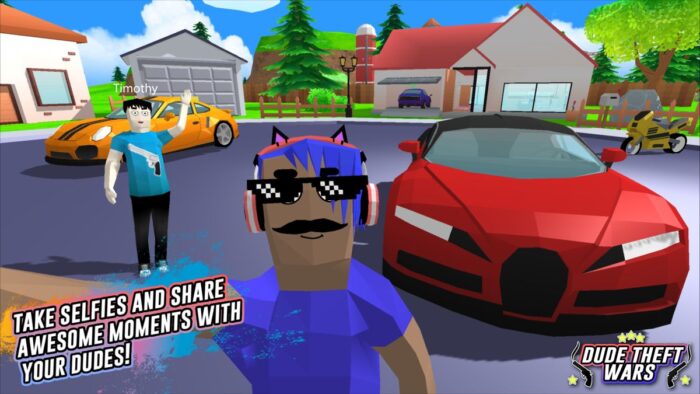 makepine – Spawns a pine tree in front of you
makepinktree – Spawns a pink tree in front of you
makeramp – Adds a ramp in front of you
makeroad – Adds a road in front of you
makespacetower – Adds a space tower in front of you
makewatertank – Spawns a water tank in front of you
makewindturbine – Spawns a giant wind turbine
moongravity – Allows you to jump much higher/longer
night – Changes the time to night
nosforever – Increases your car's speed
party – Spawns a radio that blasts music
popoplz – Gets rid of the police
rockets – Spawns fireworks rockets
SpawnFootball – Add a soccer ball
spawnadude – Adds another dude
spawnbats – Adds flying bats around you
spawngift – Spawns a Christmas present
spawntoy – Spawns a toy car
Spookyskeleton – Spawns a reanimated skeleton
Suppahotslap – Turns your hand into a weapon to kill people around you
Tinydudes – Makes other dudes super small
spawnmilk – Adds a carton of milk
Wrapping up
These are the currently working codes for Dude Theft Wars. As you can see, you can get everything for tons of extra money (through the bankrob cheat) to tons of various other crazy and not so crazy stuff in the game.
Let us all know, in the comments section below, if you find any new codes that aren't listed above.
Also, if you are playing the game, check out some Roblox One Fruit Simulator codes to give you some advantages in the game.