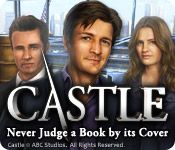 Castle: Never Judge a Book by It's Cover game by Gunnar Games.
A hidden object puzzle game.
Based on the long-running TV police show.
Featuring many of the well-known characters and locations from the show.
Available for PC and Mac including full version download.
For more HO games based on TV police shows, see my post included below.
Castle: Never Judge a Book by Its Cover HO Game
Released: March 2013.
From: Game Mill Entertainment & Gunnar Games. See also Hidden Mysteries Game Series by Gunnar Games.
Plot: The dynamic duo of Richard Castle and Kate Beckett are at it again and they need your help. You will be tasked with tracking down a killer responsible for killing innocent victims that are oddly connected. However, this isn't any ordinary killer. The crime scenes are unique and dynamic, and designed to lead you off course. With each crime, things begin to hit closer to home. Eventually an eerie pattern becomes clear during the investigation. Will you be able to find the killer before there is another victim?
Game Features
Play as Richard Castle, who has been called in as a consultant. To help Beckett and her team solve a series of unusual literary-themed murders! The press have dubbed the mystery culprit as the Hardcover Killer!
Based on the popular TV show, featuring all the main characters. The plot of this game has been written by the series creators. They've also used Castle's comedy style and witty quips in the script. Which I feel is what made the TV show so much fun to watch. Especially when he's talking to Beckett.
There are no voice-overs, so there's a bit of dialogue to read. However, it is easy to read and doesn't interrupt the flow of the game.
Game Play
Explore each location – picking up any useful items for your Inventory or questioning witnesses for further clues.
The game play also involves hidden object games most of them interactive (iHOGs), puzzles and mini-games.
The iHOGs have tabs so that you can toggle between text lists or silhouette shapes. Which I found very handy when I wasn't sure what an item was or looked like!
iHOGs and Puzzles
The interactive HO items are in yellow font. And require you to do something first before you can find it.
Fans will recognise some items from the show in the HO scenes. As well as some of the locations.
Puzzles vary from medium to quite difficult. And vary in type. Click on 'info' for details of how to play the puzzle. You can also 'reset' or 'skip' the puzzle.
Game Modes
With 2 difficulty levels: Rookie or Veteran. And 1 murder case to solve, split into 5 chapters.
From the bottom of the screen you can access a fast-travel Map, Murder Board, collapsible Inventory, Menu, Hint button and Phone when a call is coming in.
The map is interactive so you can click on it to instantly go to that location. A police badge will appear by a location, if there are open tasks to do in it.
Select the Menu button for additional game play help and tips.
The Murder Board
The Murder Board is automatically updated with new clues you collect. A neat way to view the case so far, with details of your suspect, victim, evidence and witnesses.
I like the Hint button which is a red ink pot. Once recharged a feather stands in it.
Another cool feature of this detective game, are the Phone calls from the other team members calling to tell you the latest developments or lab results etc.
Castle: Never Judge a Book by Its Cover – Review
You needn't have watched the series to enjoy this game. But fans will appreciate the aspects of the show they've included in this crime-solving game. The iHOGs are good, though the scenes can be so full of stuff that I needed to switch between the lists and shapes to find an item.
If you prefer voiced-over dialogue, then you may find there is a lot of reading to do in this game!
The puzzles are really good, some really tough ones and a good variety of types. The story is interesting and moves along well with the game play. Overall, this is a good crime-solving computer game.
Play Castle: Never Judge a Book by Its Cover
Available to buy from Amazon:
US Amazon: PC Download or Mac Download.
UK Amazon: PC Download.
You might also like my Top Games Based on Popular TV Detective Shows! round-up. With 10 top hidden object games based on popular TV crime shows like Criminal Minds, Castle, Psych, Murder She Wrote and more!
Don't forget, you can Subscribe or Follow and get updates of my latest posts.