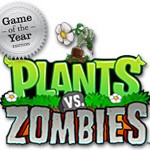 Plants vs Zombies classic tower defense strategy game.
With hungry hordes of zombies about to invade your home.
Defend yourself with strategic and well timed planting of zombie-zapping perennials!
Protect yourself and prevent these lurching zombies breaking down your door.
For more PopCap games, see my list of posts included below.
Read More »

PopCap's Plants vs Zombies – Game Review