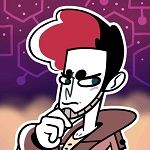 Tangle Tower a new murder mystery adventure from SFB Games.
Sequel to their Detective Grimoire game!
Due out on Steam (for PC and Mac) and Nintendo (Switch) this week. Already released on Apple Arcade (for iPad and iPhone) last month.
For more top new detective games to play on your mobile, see my list of posts below.
New Detective Grimoire Game
From: SFB Games | Released: Sept (Apple) / Oct (Steam and Nintendo) 2019 | Genres: Adventure, Detective, Point & Click, Visual Novel, Comedy, Mystery, Puzzle, Story Rich, 2D.
Tangle Tower
Plot: Unravel a thrilling mystery by exploring a strange and twisted mansion, discovering curious clues, interrogating peculiar suspects and solving unique puzzles. Freya Fellow has been murdered. The lead suspect? A shadowy figure found looming over her body, wielding a knife. The problem? That suspect… is just a painting. Investigate the entirety of Tangle Tower, from the bizarre and eerie gardens, to the cold and ominous crime scene at the very top. Will you be able to uncover the secrets of Tangle Tower? [Source: iTunes]
Game Play and Features
A fully voiced and animated cast of characters.
Atmospheric original orchestral soundtrack.
Beautiful digitally painted environments to explore.
More Top New Detective Games for Mobile
For more top new detective adventure games for phone and tablet. You might also like:
Haiku's Adventure Escape Mysteries.
Agent A: Chapter 5 from Yak amd Co.
Jenny LeClue Adventure from Mografi.
Detective Jackie from GameHouse.
Murder Mystery Machine by Blazing Griffin.
See also my latest Point & Click Games. News and reviews for PC, Mac, consoles and mobile.
Don't forget you can Subscribe or Follow to keep up to date with my latest posts.