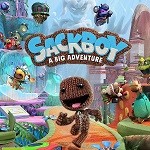 Sackboy: A Big Adventure new out on PlayStation – PS4 and PS5. An epic new 3D platform game in the LittlePlanet spin-off series!
Featuring varied perspectives, 3D movement and up to 4 people can play together.
For more top adventure games for PS4 and PS5, see my list of posts below.
Sackboy: A Big Adventure
From: Sumo Digital | PS Release: November 2020 | Number of Players: 1 to 4 | Age rating: 7+ | Genres: Action, Adventure, Platformer, Strategy.
Top New Platformer for PS4/PS5!
Plot: Explore here, there and everywhere as you utilise Sackboy's cool, diverse move-set. Face a huge variety of thrilling challenges, fierce enemies and startling surprises. Go solo in an epic race against time stuffed with danger and peril. Or create teams of two to four adventurers for fun-packed party. [Source: Amazon]
Game Play and Features
Re-stuffed. Re-stitched. RE-zipped! Sackboy returns to the big time stuffed with fresh moves and game-changing gadgets in an awe-inspiring and downright fun 3D adventure in this new, but familiar world.
Take on side-splitting challenges in local and online party play. Parties can play through the whole game – including unmissable co-op only levels.
Tempest 3D AudioTech – Hear Craftworld come life all around you.
Haptic Feedback – Running across wool like flooring or platforms will use haptics to simulate the change in material under Sackboy.
Fast Loading – Experience fast loading between and into levels, including in multiplayer sessions with the PS5 console's ultra-high speed SSD.
Available for PlayStation 4 and 5 from US Amazon and UK Amazon.
More Top Adventure Games for PlayStation
Crash Bandicoot 4: It's About Time for PS4 and Xbox One.
God of War Game Series (Release Order and Chronology) inc GoW5 Release News.
Peaky Blinders: Mastermind for Switch, PS4, Xbox One.
Dead Cells by Motion Twin – Amazon Bundle for Switch and PS4.
Truberbrook Atmospheric Sci-Fi Mystery Thriller.
Syberia Games for PC/Mac Download, iOS, PS4, Xbox One and Switch.
OXENFREE Adventure Game for PC, Mac, iOS and PS4.
Deponia 2: Chaos on Deponia for PS4 on Amazon US/UK.
RiME Adventure Game by Tequila Works.
What Remains of Edith Finch from Annapurna.
Journey from thatgamecompany and Annapurna for PS3 and PS4.
[jetpack_subscription_form title="Get Blog Post Updates by Email" subscribe_text="Never miss a post – just enter your email address below and you'll get an email every time I publish a new post." subscribe_button="Sign Me Up!"]