JUMANJI: The Curse Returns by Marmalade Game Studio. A co-op board game adventure, based on the 1995 film!
Already available on Steam for PC download. And now available on the appstores to pre-order.
Due for release later this month on iOS, Nintendo Switch and Android.
For more more top Marmalade game apps, see my posts listed below.
JUMANJI: The Curse Returns
From: Marmalade Game Studio | Appstore Release Date: November 17, 2021 | Genres: Action, Adventure, Co-Op, Board, Strategy.
Co-Op Board Game Adventure
Description: A game for those who seek to find a way to leave their world behind… experience the Jumanji board game. Roll the dice and read the riddle! Every round is a race against time to banish the danger as a team and reach the center of the board. In the face of crocodiles, elephants and charging rhinos, rescue your friends from creeping vines and dodge the hunter, Van Pelt.
Game Play and Features
For the first time on mobile! After 26 years, you can now play the iconic Jumanji board game! JUMANJI: The Curse Returns is casual co-op fun for up to 4 players! Based on the 1995 film, it combines the classic board game with time attack, card matching mechanics.
The Jumanji board game contains a mysterious jungle. With every roll of the dice a host of dangers escape into the town and can only be stopped by finishing the game. Be alert, if the jungle overpowers you and your team – everyone loses.
Stand together and face the creatures and plants the Jumanji riddle summons into the world.
Collect gems as you travel around the board and choose from a range of magical abilities, including extra Team-Up points when helping friends, reduced damage when taking a hit from Van Pelt, and the ability to deal extra damage when battling vines!
Cooperate in real-time: Your team will face more than one threat in every round. While you battle jungle creatures, twisting vines will try to ensnare you and your friends, and you must help each other to escape. Watch out for the hunter, Van Pelt, you'll also need to dodge his attacks!
JUMANJI: The Curse Returns is available now on Steam for PC download. And to pre-order for iOS, Nintendo Switch and Android.
BBC Radio Plays: Charles Paris Mysteries in Order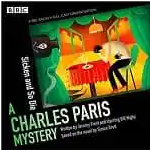 Do you love BBC Radio mystery dramas and plays?
Check out the full cast dramatisations of Simon Brett's popular mystery series! Starring Bill Nighy as the actor/amateur detective. Available for free on audiobook.
For details including a list of all the radio play adaptations in this popular UK radio series (listed in order of release): BBC Charles Paris Mysteries in Order.
Hasbro Board Games from Marmalade for iOS
Classic Hasbro MONOPOLY for iPad and iPhone.
Cluedo for Nintendo Switch and iOS.
THE GAME OF LIFE Vacations Multiplayer Game App.
Classic Battleship for Nintendo Switch and iOS.
THE GAME OF LIFE: 2016 Edition Multiplayer Game App for iOS.
Clue (Cluedo) Game for Mobile.
You might also like: Jackbox Games for TV, Tablets & Consoles. And check out my latest Top iPhone Games news and reviews.
Get Blog Post Updates by Email
Never miss a post – just enter your email address below and you'll get an email every time I publish a new post.
[jetpack_subscription_form subscribe_placeholder="Enter your email address" show_subscribers_total="false" button_on_newline="false" submit_button_text="Sign Up" custom_font_size="16px" custom_border_radius="0″ custom_border_weight="1″ custom_padding="15″ custom_spacing="10″ submit_button_classes="" email_field_classes="" show_only_email_and_button="true"]
And don't forget you can also get alerts of my latest posts by following on Twitter 🙂
*The above article may contain affiliate links, which help support this blog.