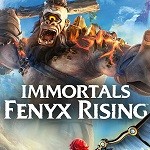 Immortals Fenyx Rising brings a new grand mythological adventure to life! Play as Fenyx, a winged demi-god on a quest to save the Greek gods. The fate of the world is at stake – you're the gods' last hope!
Now available on Amazon – standard and gold editions. For PS4, PS5, Nintendo Switch, and Xbox One. Including physical copies and download versions.
For more top new action-adventure releases, see my posts listed below.
Immortals Fenyx Rising
From: Ubisoft | Released: December 2020 | Genres: Action, Adventure, Combat, Mythology.
New Mythological Adventure
Description: Play as Fenyx, a new winged demigod on a quest to save the Greek gods and their home from a dark curse. Take on mythological beasts, master the legendary powers of the gods. And defeat Typhon, the deadliest Titan in Greek mythology, in an epic fight for the ages. The fate of the world is at stake – you are the gods' last hope. [Source: Amazon]
Game Play
Immortals Fenyx Rising is a fresh and witty take on the open world action adventure genre, featuring dynamic action, combat and stories inspired by Greek mythology. Roam freely across a beautifully stylized world and use extraordinary abilities gifted by the gods against fearsome mythological monsters. Treacherous trials, heroic feats and the very underworld itself await your bravery. Experience a tale for the ages, of gods and monsters, and become the legend you were destined to be.
Features
Explore a stylized open world and discover a beautifully rendered vibrant fantasy world.
The gods of Olympus have blessed you with gifts: the wings of Daidalos, the sword of Achilles, the bow of Odysseus, and more! As well as legendary powers that will help turn the tides of battle.
Face off against legendary beasts like Cyclops, Medusa or Minotaur. Confront corrupted heroes such as Achilles.
Use your wit and special abilities to solve challenging puzzles and mind-bending vaults or partake in high-strategy boss battles to increase your power and upgrade your skills.
Customize your character's appearance and discover new armour and gear inspired by Greek mythology.
Immortals Fenyx Rising available from US Amazon and UK Amazon for Xbox One, PS4, PS5, Nintendo Switch as physcial copies or digital download code.
More Top New Releases for PS4 and Switch
New Strategy Game – Empire of Sin.
The Pathless from Giant Squid.
Peaky Blinders: Mastermind for Switch, PS4, Xbox.
Professor Rubik's Brain Fitness for PS4, Nintendo Switch, Xbox One.
FNAF Core Collection for PS4, Xbox One, Switch.
Puyo Puyo Tetris 2: Launch Edition.
You might also like: God of War Game Series (Release Order and Chronology) inc GoW5 Release News. And check out my latest Nintendo Switch Releases.
[jetpack_subscription_form title="Get Blog Post Updates by Email" subscribe_text="Never miss a post – just enter your email address below and you'll get an email every time I publish a new post." subscribe_button="Sign Me Up!"]
Or get the latest post alerts by following on Twitter.