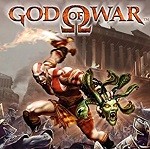 God of War I, the first installment in the top PlayStation action-adventure series from Sony's Santa Monica Studio. Created by David Jaffe. Based on ancient mythology following Kratos, a Spartan warrior.
This installment is available for PlayStation 2, 3 and PS Vita including collections on Amazon US and UK.
For all of the God of War Game Series (Listed in Release and Chronological Order) see my post included below.
God of War I
From: David Jaffe and Santa Monica Studio, Sony | Genres: Action, Adventure, Hack and Slash, Mythology, Platformer, Puzzle, Combat | Released: 2005 (PS2), 2009 (PS3), 2012 (PS Vita).
Plot: Unleash the power of the gods and embark on a merciless quest as Kratos, an ex-Spartan warrior driven to destroy Ares, the God of War. Armed with the lethal double chain blades known as the Blades of Chaos, Kratos must carve through the darkest creatures of mythology. Including Medusa, Cyclops, the Hydra and more, while solving intricate puzzles in breathtaking environments. Driven by pure revenge, nothing can stop Kratos from achieving absolution.
Over time, Kratos becomes the most vicious warrior in Ancient Greece and bathed in blood to a point where he can't bear it anymore and sets out on a journey to kill Ares. However, the only way to destroy Ares is to find Pandora's Box, which is located in a temple that's perched upon a hill and guarded by traps, puzzles, enemies, and more.
Game Play and Features
Told as a flashback of three weeks prior to where the opening movie cut scene starts.
Fight for your life against creatures taken from Greek mythology.
Challenging puzzles and incredible platform levels.
Scale walls and mountains, and head out to sea.
Face off against multiple deadly opponents in unbelievable situations. From a demonic temple to the high seas.
Collect magic and upgrades to upgrade your swords. And gain incredible powers with a near-unlimited variety of new attacks.
Amazing graphics bring the slaughter and carnage of Kratos' quest to vivid, terrible life!
Chronology: Set between the events of Chains of Olympus (2008) and Ghost of Sparta (2010).
Collections and Remastered Versions
Collection 1 (2009) includes remastered versions of I and II.
Saga Collection (2012) includes all 5 original Play Station 3 games in the series (Collections 1 and 2, III, Chain of Olympus and Ghost of Sparta).
*God of War I available from US Amazon for PlayStation 2, PS3 Collection 1, PS Vita Collection 1 and PS3 Saga Collection.
*God of War I available from UK Amazon for PlayStation 2, PS3 Collection 1 and PS Vita Collection 1.
Don't forget to check out my post: God of War Game Series (Listed in Release and Chronological Order). Detailing all of the PlayStation games in this popular action-adventure franchise.
More Action-Adventure Games for PlayStation
Five Nights at Freddy's (FNAF) Games Listed in Order plus Core Collection. Available for PS4, Xbox One, Switch.
Puyo Puyo Tetris 1 and 2. Available on PlayStation 4 and 5, Xbox One, Nintendo Switch.
Fortnite Bundles on Amazon. Available on PS4, PS5 and Switch.
Just Dance 2021, Ubisoft's Dance Rhythm Game. Available on Nintendo Switch, PlayStation 4/5, Xbox One/Series X/S and Stadia.
RiME Adventure Game by Tequila Works. Available on PC, Mac, PS4, Xbox and Nintendo Switch.
Sackboy: A Big Adventure for PlayStation. Available on PlayStation 4 and 5.
Dead Cells by Motion Twin. Available on Nintendo Switch and PlayStation 4.
And check out my latest PlayStation Games posts.
*The above article may contain affiliate links.