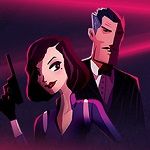 Agent A chapter 5, the final episode in Yak & co's stylish espionage adventure.
Due out this week, and on a variety of platforms and devices.
Available on mobile devices, including iPad, iPhone and Android.
Plus the whole Agent A game will be new out on other platforms.
For PC, Mac and consoles (Nintendo Switch, PS4, Xbox One).
If you've not played this game series yet check out my post included below, for details of each episode released in the series.
Agent A Chapter 5 Release
Title: Agent A Chapter 5: The Final Blow.
From: Yak & co.
Genres: Adventure, Puzzle, Mystery, Point & Click, Hidden Object, Detective, Story Rich.
Release date: August 29, 2019.
Plot: The wait is over, Chapter 5: The Final Blow has arrived. Your mission: stop Ruby and her evil organisation before it's too late, Agent B's life depends on it. Can you thwart Ruby's evil plans before it's too late or will this vindictive villain slip through your fingers? Find out in the conclusion of Agent A: A puzzle in disguise. Good luck Agent.
Features: Over 20 new achievements filled with Easter egg moments and hidden surprises.
For details of all the episodes in the Agent A series. See my post: Agent A Chapters 1 to 5.
More Top New Adventure Games
For more top atmospheric and interactive adventure games new out on PC, Mac, PS4, Xbox One, Switch, Android, iOS. You might like:
The Sinking City by Frogwares Dark Open World Investigation Game. For PS4, Xbox One and Switch.
Telling Lies – Investigation Game for Computer, iOS and Android.
Beholder 2 from Warm Lamp Games for Computer, iOS and Android.
See also my latest Adventure Games news and reviews.
Don't forget you can Subscribe or Follow to keep up to date with my latest posts.