Tales of Arise new 2021 action role-playing game from Bandai Namco. The 17th installment in the main Tales of game series.
Available for PC, PS4, PS5, Xbox One/Series X/S.
For more top JRPG games including my Tales of game series order list, see my posts listed below.
Tales Of Arise
From: BANDAI NAMCO Studios Inc. | Released: September 10, 2021 | Genres: Action, Anime, JRPG, Fantasy, Third Person, Combat, Story Rich, Adventure.
New Tales of Game 2021
Plot: Challenge the Fate That Binds You! On the planet Dahna, reverence has always been given to Rena, the planet in the sky, as a land of the righteous and divine. Stories handed down for generations became truth and masked reality for the people of Dahna. For 300 years, Rena has ruled over Dahna, pillaging the planet of its resources and stripping people of their dignity and freedom. Our tale begins with two people, Alphen and Shionne, born on different worlds, each looking to change their fate and create a new future.
Key Features
A world of nature drawn with the "Atmospheric Shader"
Introducing a new graphics shader, inspired by anime and watercolor painting. Characters with attractive designs travel among backgrounds filled with beautiful and delicate visuals.
Explore a world that feels alive
Explore the world of Dahna, where a mix of unique, natural environments change in appearance based on the time of day. Climb over the rocky terrain, swim in rivers, gather around the campfire, cook food, head to the next town, defeat the master of an alien planet, and liberate the people!
Stylish action and battles
Through the new system "Boost Strike", you can now chain combos of powerful attacks together with your party members. Chain Artes, Boost Attacks, and Boost Strike combos to take down your enemies!
Experience the story of the divided Renan and Dahnan people
The protagonists who will determine the fate of these two worlds are Alphen and Shionne. They will overcome hardships and grow together with their unique group of friends. Gorgeous animation by ufotable is inserted at key points in the story, adding more colour to our protagonists' journey.
Game Play
Tales of Arise is not a sequel as it doesn't continue where the previous Tales of game left off. So as a stand-alone story you can enjoy this Tales game without having played other games in the franchise.
How long does it take to beat? Approx' 45 hours to complete the main game play. Plus an approx' 50 hours of extra game play, depending on how much of the side content you want to have a go at.
Experience the next chapter in the Tales of series, brought to life in stunning HD powered by Unreal Engine 4.
Dynamic Action RPG featuring an updated battle system that retains classic Tales of gameplay.
Rich story featuring a vibrant world and new cast of characters.
High quality animation created by ufotable.
Featuring a diverse cast of characters, intuitive and rewarding combat system, and a captivating story set in a lush world worth fighting for, Tales of Arise delivers a first-class JRPG experience.
* Tales Of Arise available from US Amazon and UK Amazon for PS4, PS5, PC, Xbox One including Digital, Collector's and Standard Editions.
For the full series list: Tales of Games Listed in Order by Namco for PlayStation and Nintendo.
More Top JRPG Games
Octopath Traveler JRPG for Nintendo Switch.
The Longest Five Minutes for Nintendo Switch.
Lost Sphear JRPG for Switch.
Aveyond Kingdom JRPG Series.
Adventures of Mana for Phone and Tablet.
Cat Quest for iOS, PC, Mac, Android, PS4 and Switch.
Fire Emblem: Three Houses – New JRPG for Switch.
See also my latest role-playing games posts for PC, Mac, mobile and consoles.
BBC Radio Plays: Charles Paris Mysteries in Order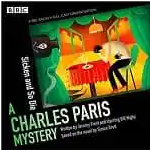 Do you love BBC Radio mystery dramas and plays?
Check out the full cast dramatisations of Simon Brett's popular mystery series! Starring Bill Nighy as the actor/amateur detective. Available for free on audiobook.
For details including a list of all the radio play adaptations in this popular UK radio series (listed in order of release): BBC Charles Paris Mysteries in Order.
Get Blog Post Updates by Email
Never miss a post – just enter your email address below and you'll get an email every time I publish a new post.
[jetpack_subscription_form subscribe_placeholder="Enter your email address" show_subscribers_total="false" button_on_newline="false" submit_button_text="Sign Up" custom_font_size="16px" custom_border_radius="0″ custom_border_weight="1″ custom_padding="15″ custom_spacing="10″ submit_button_classes="" email_field_classes="" show_only_email_and_button="true"]
And don't forget you can also get alerts of my latest posts by following on Twitter 🙂
*The above article may contain affiliate links.