Subliminal Realms 1: The Masterpiece Collector's Edition (CE).
A top new Big Fish iPad hidden object game.
Developed by Boolat Games.
This colorful and unusual artistic adventure.
Includes hidden objects, puzzles and mini games.
Also available, with free demo for PC and Mac.
February 2017 Update: Subliminal Realms 2 now out. See below for details

Top New Big Fish iPad Game – August 2016
Subliminal Realms 1: The Masterpiece
From: Boolat Games.
Genres: Mystery, Hidden Object, Puzzle.
PC release: July 2015.
iOS release: August 2016.
Plot: Albert is a talented artist who just happens to be harboring a very dark secret. The past few months, he's been plagued by nightmarish visions of a terrifying creature he's come to call Solitude. One fateful night, this horrific monster abducts Albert's wife and daughter, drawing them into the painting where this demon resides. To get them back, he'll have to venture far inside his own twisted fantasies!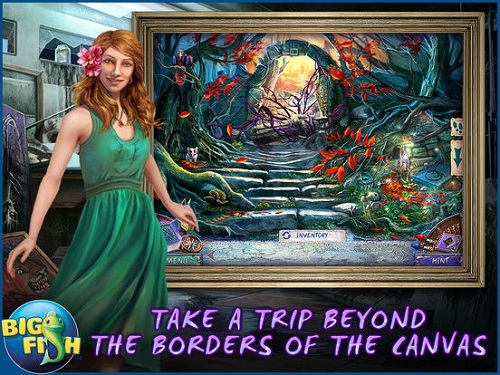 Subliminal Realms 1 – Features
Take a Trip beyond the Canvas: Armed with only your wits and a trusty paintbrush! This journey will take you deep within the tortured, yet brilliant mind of a gifted painter. Be careful not to get lost in this world of imagination.
Use all the Colors on your Palette: Sketch out a rescue plan through vivid hidden object scenes.
Get Special Help from an Unusual Friend: This magical beast will help solve creative puzzles and imaginative mini-games.
Paint your own Masterpiece in the Bonus Game: Take on the role of an artist and enjoy additional Collector's Edition exclusives. Including collectible Slides, special achievements, and more!
See also: Subliminal Realms 2: Call of Atis CE Review.
More HOPA Game Reviews
Beyond 2: Star Descendant CE Review.
Adam Wolfe Review – (Episodes 1-4).
Dark Realm 2: Princess of Ice CE Review.
Dawn of Hope: Skyline Adventure.
Dark Parables: The Thief and the Tinderbox Review.
See also 10 Top Free Full Version BigFish Games for PC. With free hidden object, time management and simulation games.
Don't forget, you can Subscribe or Follow and get updates of my latest posts.