For free Slingo online games.
Checkout these 2 Slingo games.
Which you can play in your browser.
For free, with no download or registration required.
Update August 2016: You can now play even more Slingo games on your mobile. See my new post, linked below. For a full list of Slingo game apps. For Kindle Fire, iPhone, iPad and Android. Plus details of offline Slingo games you can get for PC download.
Free Online Slingo Games
Developer: Funkitron.
Slingo Deluxe
Play the original classic Slingo online game free. No download required.
Description: "Slingo is the unique combo of legendary faves, Bingo and Slots… First developed as a traditional slot machine in 1995. Slingo became one of the biggest multiplayer games on AOL only one year later. Slingo Deluxe features sharp graphics, saved stats, top 10 lists, and custom backgrounds. This game is the perfect no-risk experience for anyone who enjoys the game of chance."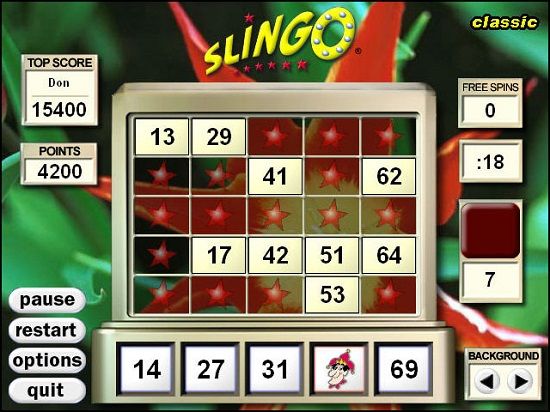 Slingo Supreme
Description: "Slingo Supreme is the sequel to Slingo Deluxe that is packed with even more Slingtastic fun! It features a new and innovated Supreme mode that lets you build your own Slingo games. It also contains an infinite amount of Daily Challenges, new Powerups like Reel Nudge and Instant Slingos, and introduces the long awaited Devil Mini Games. Now you can finally take on that Devil and beat him at his own game!"
You might also like: Offline Slingo Games to Download and Play on PC.
More Cool Games for Computer & Mobile
For more popular cool games to play. See my posts:
PopCap's Peggle Blast for Mobile.
Plants vs Zombies Game Review.
ClearIt – Marble Popper for PC and Mac.
Bookworm Deluxe Review for PC & Mac.
Don't forget you can Subscribe or Follow and get updates of my latest posts.