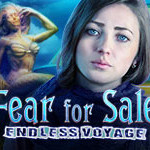 Fear for Sale 6: Endless Voyage review.
New hidden object game out in May 2015.
Is this top pick of the month.
An eerie hidden object mystery adventure!
Available for PC and Mac.
This is the sixth part in the spooky Fear for Sale HO game series.
See below for the full series list so far.
From top game makers, EleFun Games.

Fear for Sale 6: Endless Voyage review
By: Elefun Games.
Genres: Detective Games, Mystery, Hidden Object, Puzzle.
PC/Mac standard edition release date: May 2 2015.
Plot: In this ghostly continuation of the Fear for Sale series, you've discovered that a luxury ocean liner bears an eerie resemblance to a ship of the same name that vanished years ago. Can you survive its next voyage?
Fear for Sale 6 – Game Play & Features
In this game you are an investigative reporter. And your challenge is to solve the mystery behind the appearance of a luxury ship. Which looks uncannily like a lost liner. A ship that had mysteriously disappeared years ago with no trace! Gameplay includes:
Interactive hidden objects, puzzles, mini-games and finding morphing objects.
Play with 4 difficulty modes: casual, normal, hard and custom.
An engaging mystery story. Split into 6 Chapters: S. S. Virginia, Building the Case, The Island, The Captain's Compass, The Lighthouse and The Radio Tower.
All interactive hidden object scenes.
The HO scenes use a variety of styles. e.g. word lists, pictures and silhouettes.
If you want don't want to play the HO game. You can switch to playing a puzzle instead.
A handy diary (bottom left-hand corner). Useful to see tasks you've done and yet to do.
A map (bottom right-hand corner). Allows you to easily move between locations.
The map is also very useful for showing which locations still have things to do.
To complete a location you will also need to find morphing objects/collectibles.
Once you have completed a chapter, a yellow star will be shown next to it.
Fear for Sale 6: Endless Voyage Review
This is an interesting addition to the Fear for Sale series. The plot is good enough to keep you interested in solving the mystery. And with a nice mix of interactive hidden object games. That are evenly threaded through the game. And puzzles that vary from quite easy to quite tricky brain teasers! There is plenty enough to do in this HOG. Making this mystery game a joy to get stuck into and play!
This is the 6th installment in the series. See my post: Fear For Sale Game Series List. For all the game titles in the series so far. For computer and mobile, in order of PC release.
More HOPA Game Reviews
Beyond 2: Star Descendant CE Review.
Adam Wolfe Review – (Episodes 1-4).
Dark Realm 2: Princess of Ice CE Review.
Dawn of Hope: Skyline Adventure.
The Thief and the Tinderbox – DP12 Game Review.
See also my latest Elefun Games for PC, Mac, Android, iPad and iPhone posts. Including series lists, new releases and reviews.