If you are a looking for free online mahjong game to play with your kids or for a quick mahjong game.
Try Mahjongg Dimensions Unblocked. A bright, colourful and browser game.
Available to play in your browser for free no download required.
For more free online games to play without registration or logging in, see my list of posts below.
Top Free Online Mahjong Game – No Download Required
Title: Mahjongg Dimensions Unblocked.
By: Arkadiam.
Genres: Puzzle, Tile Game, Mahjong, Adventure, Kids.
Mahjongg Dimensions Unblocked
Description: Frank is out to get all the Cubies in the world and they need your help. Blast your way through rotating Mahjongg puzzles to rescue them and save the day!
Simple to play. But a very addictive Mahjong. The colourful graphics and 3D layout makes a nice unique twist on the original tile game!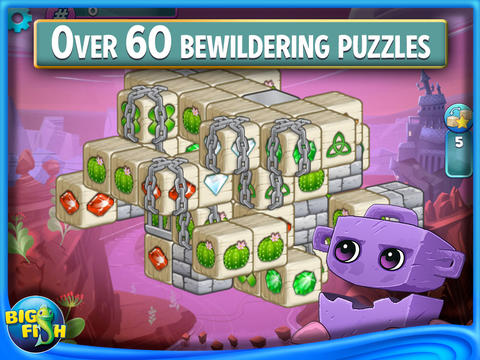 Features
Beautiful rotating 3D Mahjong cube puzzles.
Hand painted background graphics.
With strategic Boosts to help you on your adventure.
Beware of Frank's cubes that will block your progress.
Time limits to challenge your Mahjong skills.
4 chapters to puzzle through.
As well as Game Center Achievements and Leaderboards – compete with your friends!
For another top free Mahjong game. Check out my How to Play Mahjong Solitaire Epic for Computer and Mobile. Available on PC, Mac and mobile.
More Top Free Online Games
Traditional Mahjong Games Online.
Online Slingo Games – Original Deluxe and Supreme Free.
Play Clue / Cluedo Online Multiplayer.
Play Risk Online Against Computer.
Life Board Game Online Multiplayer.
PvZ Online by PopCap Games.
PopCap Bookworm Adventures Online Free.
You might also like: Top Free Management Games Online no Download Required.
See also my latest Best Big Fish Games series lists, new releases and reviews.