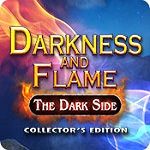 Review of Darkness and Flame 3.
The Dark Side.
From Five-BN.
Available for PC and Mac download, with free demos.
For more top mystery adventure games from FiveBN, see my list of posts included below.
July 2018 Update: Now also available for Amazon Fire.
Darkness and Flame 3
Title: Darkness and Flame: The Dark Side.
From: Five-BN Ltd.
Genres: Mystery Games Adventure, Hidden Object, Puzzle.
Collector's Edition release: April 2018. This includes bonus content, more game play and extra features.
Plot: Alice and her companions just blew up a dam and buried the army of the Darkness under thousands of tons of water. Victory was practically guaranteed. But the Dark Warrior survived, and created a hurricane so powerful that it nearly killed them all! Alice regains consciousness on the Dark Side of the Great Fissure, a place where nobody has been for decades. To make matters worse, the power of the burning flame has started to fade. Travel with Alice through dark lands and deserted settlements into the heart of the Dark Side. Are you ready for a difficult, but thrilling journey?
Collector's Edition – Game Play and Features
Solve incredible puzzles.
Gather amazing collections.
Find dozens of morphing-objects.
Enjoy beautiful graphics and exciting mini games.
Integrated strategy guide.
Review
Another well done, fast-paced chapter in this adventure series from Five-BN. With a good story and varied game play. The game play works well to engage and immerse you in this adventure. And there are plenty of extras and bonuses in the Collector's Edition.
Play Darkness and Flame 3: The Dark Side
Available on Amazon for: Fire Tablet (US) or Fire Tablet (UK).
This is the 3rd installment in the series. See my post: Darkness and Flame Game Series List. For details and reviews of all of the games in the series so far. Listed in order of release.
See also:
1. Darkness and Flame: Born of Fire Review.
2. Darkness and Flame: Missing Memories Review.
More Mystery Adventures from Five-BN
For more top mystery adventure games from 5BN. See also:
Lost Lands Game Series List.
New York Mysteries Games and Reviews.
Sacra Terra Games from Alawar and Five-BN.
The Legacy Game Series.
House of 1000 Doors Games List Order.
See also my latest Five-BN Games for PC, Mac, Android, iPad and iPhone posts. Including series lists, new releases and reviews.
And also my 10 Best Hidden Object Games Series of all Time! For computer and mobile.
Don't forget, you can Subscribe or Follow and get updates of my latest posts.