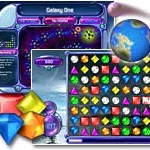 This top 10 best match 3 games list.
Includes a variety themes and types of match3 games.
From simple addictive match3 gaming.
To games involving other gaming elements. Such as puzzles, adventure and goals.
I've included details for each of the games in my top 10 list.
As well as a list of new match 3 game releases for you to check out.
Leave me a comment below, with details of your fave match 3 game for computer!

Top 10 Best Match 3 Games for PC and Mac
Top 10 Match 3 Games List: 1. Bejeweled 2 Deluxe | 2. Jewel Quest | 3. Cradle of Rome | 4. Magic Vines | 5. Fairies | 6. Magic Match | 7. Jewel Quest II | 8. 7 Wonders of the World | 9. Jewel of Atlantis | 10. Fishdom
1. Bejeweled 2 Deluxe Game Review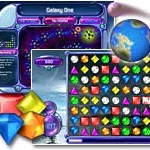 Shine up your matching skills to make your way through Bejeweled 2. Bejewelled is probably the most well-known match3 game. And the Bejeweled 2 Deluxe version is for me the best edition of the Bejewelled series. It includes multiple game modes, loads more glitz and glamour and is a new take on the most popular gem-swapping match 3 game.
Please note: This download version is no longer available. But you can get Bejeweled 2 on CD, from Amazon:
2. Jewel Quest Game Review
There are about 7 games in the Jewel Quest series and this is my favorite one. Explore the ancient Mayan ruins whilst searching for hidden treasures and artefacts. I like this Jewel Quest edition because it is a different take on the familiar Match 3 genre. For example, you must sort the relics you find to create a full screen board of gold tiles in order to win each game. As you move through the levels, the match 3 games get more difficult including secret twists, cursed items, and buried artefacts. And with 180 puzzle boards to solve, there's plenty of game play!
Get Jewel Quest for PC.
3. Cradle of Rome Game Review
Cradle of Rome achieved 1st Runner-Up Best Puzzle Game of 2007. And is a very addictive match-3 resource game. Starting as a lowly peasant your aim is to rise through the ranks to become the Emperor by building the heart of the Ancient Roman Empire. Working through 5 eras and with over 20 famous and iconic structures to build, you must use your match 3 skills to collect resources for you to use in your empire building. Structures include the Coliseum which you will need to train your gladiators and the Pantheon Temple. An excellent match 3 puzzle game and another unique take on the match-3 games.
Get Cradle of Rome for PC or Mac.
4. Magic Vines Game Review
A great adventure puzzle game, Magic Vines™ will take you from the jungles to the plains and everywhere in between. Explore each level by solving a series of increasingly difficult puzzle boards. Once you have selected a location, fly off to a new part of the world where more challenging puzzles await. Stunning graphics, groovy music, and tricky puzzles make this game pure magic!
Get Magic Vines for PC or Mac.
5. Fairies Game Review
This Match 3 puzzle game is set in a mythical land of forests and elves and is fun for all the family. You aim is to win wizarding power by matching and collecting fairies. With over 200 levels of gameplay, 5 worlds and 4 gameplay modes. This game has plenty to enjoy as well as beautiful hand-drawn illustrations, 3-D graphics, and an original soundtrack.
6. Magic Match Game Review
Magic Match is an enchanting magical themed match-3 puzzle. With an imp called Giggles to help you explore the 6 realms of Arcane over 100 levels. This is a fun family game with 3 difficulty levels, beautiful cut-scenes and enthralling story, plus power-ups and interesting special features.
Get Magic Match for PC.
7. Jewel Quest II Game Review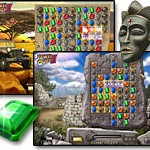 Almost as good as Jewel Quest I, this sequel has all the great game play of the first edition but with a different location, more ruins to explore and more games to play. This time set in Africa 1944, join Professor Pack on the ultimate jewel matching adventure across the world's richest continent. With 180 new puzzles and boards, 9 new jewels and power-ups and 5 skill levels to master.
Get Jewel Quest II for PC or Mac.
8. 7 Wonders of the World Game Review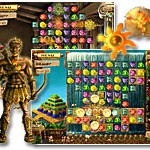 An addictive, mesmerizing, block-matching game that takes you from the Great Pyramid of Giza to ancient Greece. You have to work against the clock to match runes, do it in time to pass to the next level. With over 49 levels, 3 difficulty levels and 7 wonders to explore. A simple but highly enjoyable match 3 puzzler that has great graphics too!
Get 7 Wonders of the World for PC.
9. Jewel of Atlantis Game Review
Another very addictive fun match 3 game, as you explore the newly uncovered ancient continent for valuable relics. Includes a huge in-game map to show you the way, this is a breakout-style match 3 puzzle game.
With exciting mystical places to search like the Sacred Temple, Ship Wreck, and a Sunken Volcano!
10. Fishdom Game Review
Another very popular Match 3 game, Fishdom has a number of variations, but this original edition is my favorite and is it very relaxing too. Play match 3 games to earn credits to spend in the virtual fish shop. To create your perfect aquarium and nurture your little pets!
More Top Match 3 PC/Mac Games
For more top match 3 games for PC and Mac. See my posts:
* Sir Match-a-Lot – Free Full Match 3 Game for PC, iPad & iPhone.
* ClearIt – Top Marble Popper Game for PC and Mac.
* Imperial Island 3 – Top New Big Fish Match 3 PC Game.
* Antique Shop: Lost Gems Egypt – Top Match 3 Game for PC.
* Laruaville Games Series List – including a New Christmas Game for PC.
* Big Fish Gummy Drop App Download for PC – Free Full Match 3 Game. Regularly updated with new levels and content!
* Gardenscapes – New Acres.