Antihero Digital Board Game with multi-player mode. New out on iTunes for iPad and iPhone. Play this iOS version of the strategy board game. Against AI opponents. Or with friends in local multiplayer mode.
For more digital board games with multiplayer mode or to play against AI opponents for iOS. Check out my list of posts, included below.
New iOS Board Game Adaptation
Title: Antihero Digital Board Game.
From: Tim Conkling.
Publisher: Versus Evil.
Genres: Board, Strategy, Multiplayer, Turn-Based.
iOS release: January 2018.
Antihero Digital Board Game
Description: Become a feared and revered master thief in Antihero, a fast-paced digital board game. Use stealth, cunning, and the occasional assassination to build the most powerful thieves' guild in this gas-lit Victorian underworld. [Source: iTunes]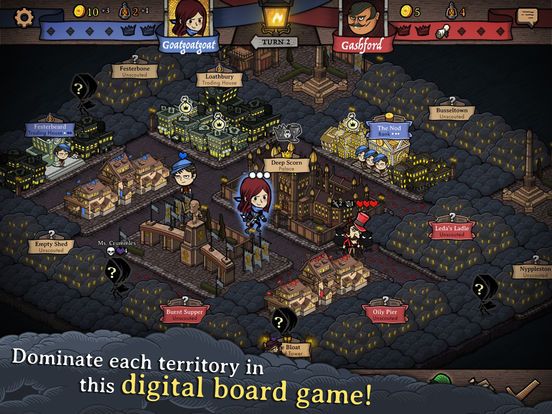 Game Play and Features
One Goal, Many Foes! Play through the story-driven campaign, skirmish against the AI, and jump online in casual and ranked PvP multiplayer.
Challenge your Friends. Invite friends to play asynchronously or increase the pressure in a Live Match. Set up custom "House Rules" and tailor the game to your tastes!
Take over the city and protect what's yours! Infiltrate businesses, sneak into estates, set traps, and steal everything. The city's riches are yours – if your opponent doesn't take them first.
Sneakery, Stabbery and Skullduggery! Upgrade your guild, recruit street urchins, hire thugs, start a gang… and bribe, blackmail and assassinate the opposition. There are many paths to the top.
Manage a Healthy Economy. Spend your ill-gotten riches to hire new recruits, upgrade your thieving skills, and acquire deadly weapons. Gold is a thief's best friend!
Download Antihero Digital Board Game
More iOS Board Game Adaptations
For more new iOS board game adaptations, you might also like:
* Through the Ages Board Game for iOS.
* 7 Wonders Card Game for iPad.
* Cottage Garden Board Game iOS.
* Mysterium: A Psychic Clue Game.
* Monopoly Here and Now Game for iOS, PC and Mac.
And also checkout my latest Board Game News and Reviews posts.
Don't forget, you can Subscribe or Follow and get updates of my latest posts.