Phantasmat 5: Behind the Mask CE.
A new Eipix hidden object game app.
Released this week for Amazon Kindle Fire.
Already available for iOS, PC and Mac.
I've also included a round-up of other new HO games. For computer and mobile.

New Eipix HO Game for Amazon Fire
Title: Phantasmat 5: Behind the Mask Collector's Edition (CE).
From: Eipix Entertainment.
Publisher: Big Fish Games.
Genres: Hidden Object, Puzzle, Mystery, Spooky!
PC release: December 2015.
iOS release: November 2016
Amazon release: January 2017.
Phantasmat 5: Behind the Mask CE
Plot: You receive an invitation from one of your relatives for a family reunion at Ward Manor. You haven't seen them in quite some time, but once you arrive at the estate, you quickly find that your so-called family is acting much stranger than you remember. The old mansion is in serious disrepair, and it seems not everyone is there to catch up on old times. [Source: iTunes]
Phantasmat: Behind the Mask CE – Features
Survive this dark and stormy night! Every family has some skeletons lurking in the closet, but yours may be going for a world record. Will you make it to see the morning, or will this be your last night on earth?
Can you defeat the ghosts of your own family? Vanquish the vengeful spirits through ominous hidden object scenes.
Find out what evil hides behind the disguise. Track down your foe by solving spooky puzzles and haunted mini-games.
Unearth a deep, dark secret in the spooky bonus chapter. Find out what the family's been hiding. And enjoy additional Collector's Edition exclusives. Including collectible Horses, special achievements, and more!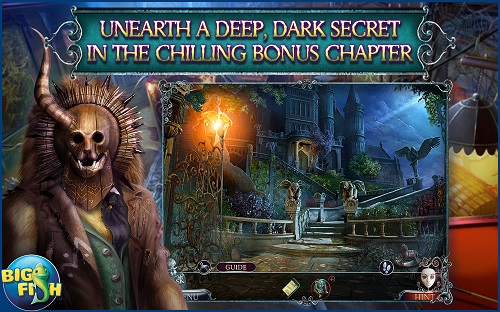 Get Phantasmat: Behind the Mask CE
Phantasmat: Behind the Mask CE is available on:
This is the 5th installment in the series. See my post: Phantasmat Game Series List. For all the games in the series so far, in order of release.
More Eipix Game Reviews
* Dark Parables: The Thief and the Tinderbox Review.
* Hidden Expedition 9 CE Review.
* Myths of the World 7 CE Review.
See also my latest Mystery Hidden Object Games News. For PC, Mac, iPad and iPhone. Including series lists, new releases and reviews.